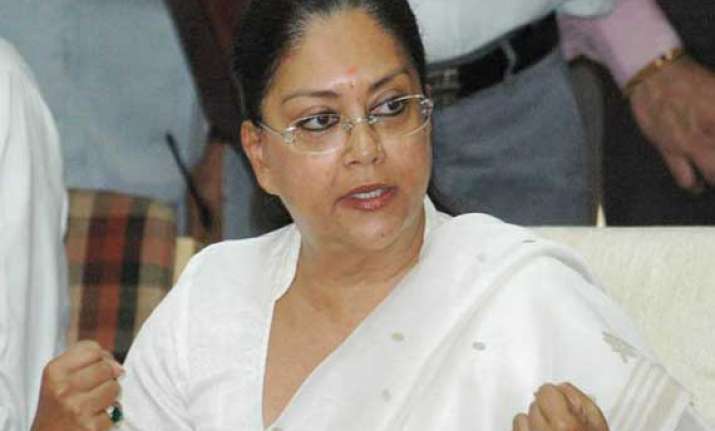 Jodhpur:  Rajasthan Chief Minister Vasundhara Raje today visited Chadi, the ancestral village of Parasram Maderna, to pay homage to the deceased Congress leader.  
Raje offered floral tributes to Parasram Maderna and his wife, whose memorial is adjacent to that of the deceased leader's, and gave her condolences to his family members.  The veteran leader passed away on February 16 at SMS Hospital in Jaipur.
Raje was accompanied by her son and Jhalawar MP, Dushyant Singh.
Mahipal Maderna, the son of the deceased leader, presented a copy of the 'Bhagvad Geeta' to Raje.  Raje, meanwhile, announced that the government college at the Maderna family bastion of Bhopalgarh would be named after Parasram Maderna.
'Our relations are not political but of the heart and we all respect (Parasram) Maderna as our ideal for his politics of value and ethics,'she said.
Referring to her recent 10-day stay in Bharatpur, she said that the move was an attempt by her to send out the message to people that the government was with them. 
Energy minister Gajendra Singh Khinvsar had visited the family on Saturday to express his condolences to them.  The state government was represented by Assembly Speaker Kailash Meghwal and cooperative minister Ajay Singh Kilak at Parasram Maderna's funeral which Raje, however, could not attend due to her visit to Bharatpur.