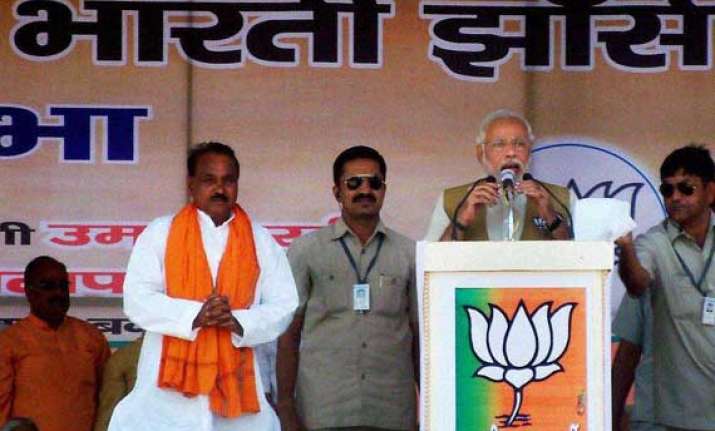 Jhansi: Ridiculing Rahul Gandhi's allegations against him, Narendra Modi today said his remarks were comical and the Congress leader could soon force stand-up comedian Kapil Sharma to "shut his shop".
Modi, who was addressing a public meeting in favour of firebrand BJP leader Uma Bharti, also targeted Prime Minister Manmohan Singh for his comments on the 'Modi wave' in the country, saying that the PM had also failed to see corruption in his government and only the "mother-son duo" were visible to him, in a reference to Sonia Gandhi and Rahul.
"I feel the TV serial of comedian Kapil Sharma will close in a few days. His (Gandhi) videos can be shown by TV people and all the exertion of the elections will go away. You will not have to go anywhere for entertainment," Modi said at an election rally here.
He said, "Gandhi at his rally in Gujarat had said that there are 27,000 crore posts vacant in the state, but he failed to realise that India's population is only about 125 crore."
On Rahul's statement regarding Lokayukta, he said, "It was Gujarat's Lokayukta, who held a former Congress Chief Minister guilty of corruption and now his son was minister in the centre."
Rahul had yesterday said Modi would have been in jail had Lokayukta and RTI Commissioners been in place in Gujarat.