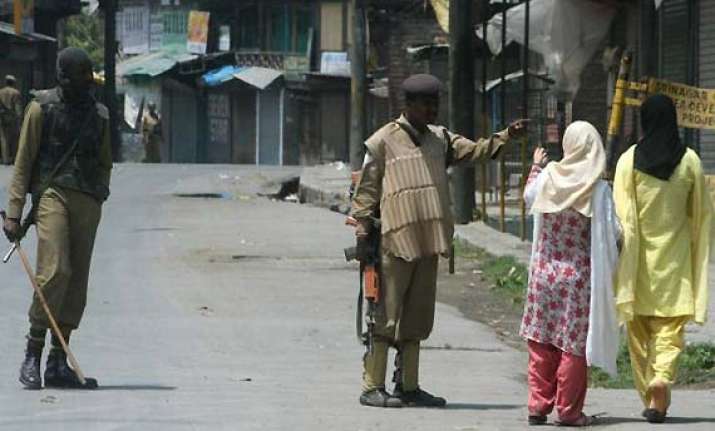 Srinagar, Nov 23: Curfew like restrictions were imposed in Srinagar city today to prevent people from taking out Muharram processions even as one person made a self-immolation bid in protest.
Strict prohibitory orders under section 144 were imposed in areas falling under Kothibagh, Maisuma, Kralkhud and Shaheedgunj police stations of the summer capital of Jammu and Kashmir, police said.
The officials said the restrictions in these areas were imposed due to apprehensions that separatist groups might attempt to stage anti-national protests during Muharram processions today.
Sources said the authorities feared protests over Hardline Hurriyat conference leader Syed Ali Shah Geelani's call for protests after Friday prayers against the situation in Gaza and BJP's increased rhetoric demanding hanging of 2001 Parliament attack death row convict Afzal Guru.  
Police and CRPF personnel were deployed in large numbers in areas of the city under prohibitory orders to prevent any unlawful activity.
Police detained over 30 Shia mourners and fired teargas shells to foil an attempt by the community to take out a procession from Batmaloo area of central city.  
Over 150 shia mourners assembled at Batmaloo and tried to take out a procession in violation of prohibitory orders, official sources said.
They said police immediately swung into action and used batons to disperse the marchers who turned violent and resorted to stone-pelting on the cops.
The policemen fired teargas shells and took over 30 mourners into custody, the sources said, adding, the clashes between the mourners and the police were still continuing.  
There was no report of any casualty in the clashes but one of the mourners received burn injuries after he made a self-immolation bid, the sources said.
Before the onset of militancy, the Shia community of the city used to take out processions from Abi Guzar in Kothibagh and Guru Bazaar in Kralkhud police station areas which culminated at Dalgate in Ram Munshi Bagh area to mark the eighth day of the 10-day Muharram mourning period.  
However, these processions were banned in 1990 as authorities feared that militants can attack the processions, which is led at many places by separatist leaders, to malign the government.