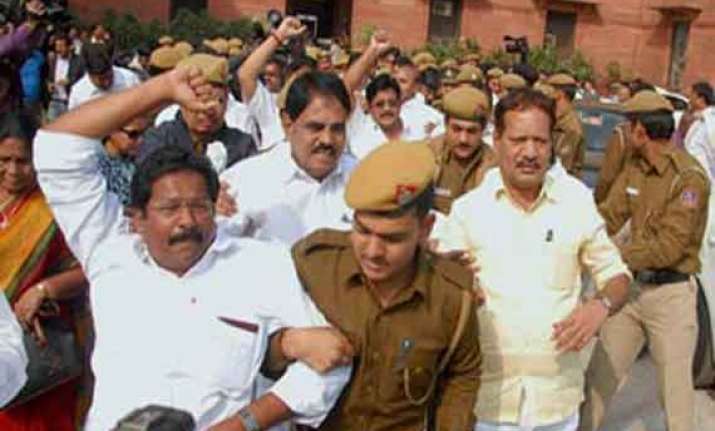 New Delhi: Even as the last session is due to start on Wednesday in which the Telanana Bill is likely to be taken up, pro and anti-statehood Congress leaders are all set stage separate sit-in here today to mount pressure on the government.
The Congress has said that it was serious about bringing the contentious bill in Parliament. Prime Minister Manmohan Singh appealed for a peaceful bifurcation of Andhra Pradesh in a meeting with TRS leaders yesterday.
While Andhra Pradesh Chief Minister N Kiran Kumar Reddy is likely to participate in a dharna at Jantar Mantar to oppose Telangana, his deputy who is from Telangana, would begin a sit-in at Rajghat. 
Sources close to the Chief Minister claimed a galaxy of leaders, including Union Ministers from Seemandhra region, Ministers, MLAs and MLCs from Andhra Pradesh, are likely to take part in the dharna.
On the other hand, Deputy Chief Minister Damodar Raja Narasimha, who is from Telangana, is expected to be joined by Congress legislators including ministers from his region.
Meanwhile, TDP MLAs yesterday held a dharna at Andhra Pradesh Bhavan in Delhi, demanding the state be saved from being bifurcated.