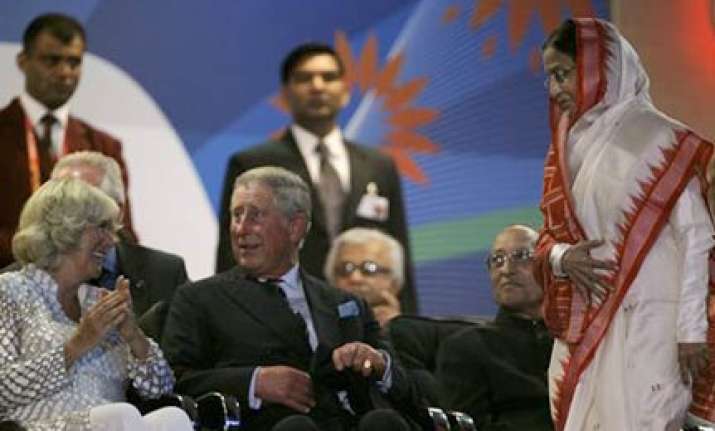 New Delhi, Oct 3: The 19th Commonwealth Games was today jointly declared open by Prince Charles and President of India Pratibha Patil in a diplomatic compromise that was worked out much before the inauguration.
Officially the Queen, the ceremonial head of the Commonwealth, declares the Games open. But the monarch's decision not to attend the ceremony for the first time in 44 years led to a diplomatic arrangement between the British officials and the Indian authorities.
Under the compromise it was decided that both Charles and President Patil would jointly declare the Games open.
In a spectacular opening ceremony, after the Queen's baton was handed over by Beijing Olympic bronze medallist wrestler Sushil Kumar to Charles, the Prince of Wales read out the Queen's message but it was President Patil who had the last word, saying, "Let the Games begin".
"My wife and I are pleased to be able to join you here in Delhi, where I have been asked by Her Majesty the Queen to be here at the start of the 19th Commonwealth Games," Prince Charles said in his message.
"It is fitting that these Games are being held in India. I firmly believe that when countries can compete in sports together like this, it helps all nations to search together for peace throughout the world.
"To everyone, I send my very best wishes for what I hope will be the experience of a lifetime. I have much pleasure in declaring the 19th Commonwealth Games open," it said.
President Patil then delivered her speech in which she said now that the Games are open, let them begin.
"Sports has always been a powerful bridge among different cultures and at the Commonwealth Games we shall see that coming true once again. We will see the power of sports bond together with commonality.
"In the next 11 days we will see thousands of athletes engaging in various sports competitions and witness the unfolding of variety of emotions. We shall see human endeavour at its very best," she said.
"We wish the athletes the very best in their dedicated pursuit of excellence. I am sure everyone will cherish this Games. To my fellow Indians, let's showcase our legendary hospitality while we celebrate sport in our country.
'The Games are now open, let the Games begin," she said. PTI