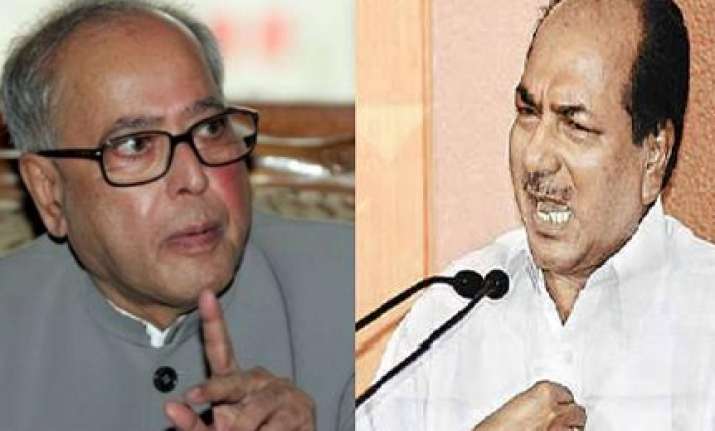 New Delhi , Oct 31: The suspense over the fate of embattled Maharashtra Chief Minister Ashok Chavan continued tonight with a high-level Congress committee tasked to give a report on the housing scam in Mumbai saying it would need "more time" to do its job.
Finance Minister Pranab Mukherjee, heading the two-member committee, met fellow panel member Defence Minister A K Antony tonight shortly after arrival from Kolkata and said that he would require some more time to go through the documents and prepare a report for Congress President Sonia Gandhi.
"I will require more time to go through the papers and therefore it would not be possible for me or Mr Antony to say anything right now," Mukherjee told reporters after meeting Antony, who is also in-charge of party affairs in Maharashtra.
After Chavan offered to resign yesterday during a meeting with Gandhi in connection with an alleged scam in the Adarsh Co-operative Housing Society, Gandhi had appointed a two-member panel to look into the matter.
"You know, Congress President has entrusted Mr Antony and myself to examine the relevant papers and documents and there after to report to her. As Mr Chavan has already offered his resignation to her, before she arrives at a decision she expects a report from both of us," Mukherjee said.
The formation of the panel was announced by AICC General Secretary Janardan Dwivedi who refused to answer repeated questions on the its timeframe.Earlier in the day, Antony indicated it will not take unduly long time to decide the fate of Chavan."It will not take unusual time. It will take normal time," Antony said when asked to comment on enquiry by the panel.
TV reports alleged that more Congress and NCP leaders including three former Maharashtra chief ministers -- Union Heavy Industry Minister Vilasrao Deshmukh, Union Power Minister Sushilkumar Shinde and cuurent Revenue Minister Narayan Rane -- and Maharashtra minister Ajit Pawar, nephew of NCP supremo Sharad Pawar had links with the controversial upscale project.
Deshmukh, Rane and Pawar denied the allegations of any links saying they had not recommended any cases for allotment of flats in the 31-storey housing complex which stands on the land supposed to be meant for Kargil war heroes and widows while Shinde accused the media of making a hue and cry over the issue.PTI