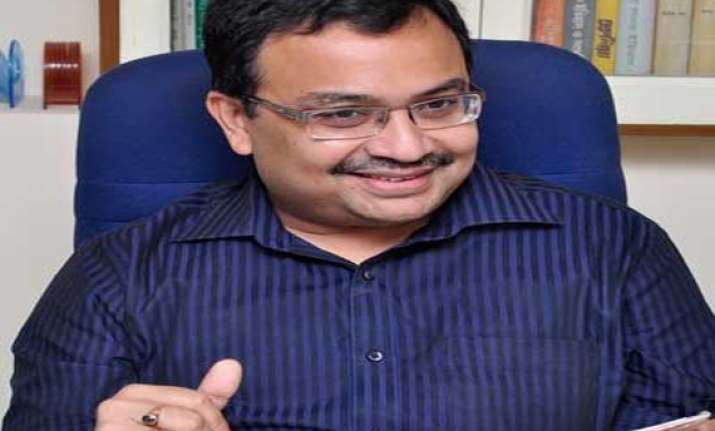 Kolkata: Trinamool Congress Rajya Sabha member Kunal Ghosh - suspended from the party - was Wednesday yet again grilled by the West Bengal Police for over four hours in connection with the multi-crore Saradha chit fund scam.
He would be subjected to a further round of quizzing at 11 a.m. Thursday. However, another Trinamool MP, Somen Mitra, dubbed as "administrative vengeance" the series of interrogations faced by Ghosh since he lashed out against the Trinamool leadership Sep 20.
Ghosh, who earlier headed Saradha's media arm, drove straight to the Bidhannagar police commissionerate after landing in the city from Delhi Wednesday afternoon. The commissionerate is probing the scam, the biggest such scandal to hit the state.
Later, speaking to mediapersons outside the commissionerate, Ghosh quipped: "Everybody is seeing, hearing... and people are understanding what is to be understood".
To another query, Ghosh said he has written to party chief and West Bengal Chief Minister Mamata Banerjee for withdrawal of the suspension slapped on him.
"As I have said earlier, I will come whenever the police summon me. I will come again tomorrow, as they have called me. I will try to answer all their questions. The vital thing is I am getting an opportunity to say whatever I have to say," he said.
"Before the company collapsed and admitted there was no money, I had given back the money that I had earned to help pay off dues of co-workers. So it hurts to hear these allegations after all that," Ghosh said.
Earlier this week, Somnath Dutta, a senior executive of the chit fund-aided Saradha media and close aide of Ghosh, was sent to police custody for seven days in connection with the multi-crore-rupee scam.
Dutta was arrested from his Salt Lake residence Saturday, hours after Ghosh was placed under suspension by the Trinamool Congress on disciplinary grounds.
Ghosh last month alleged he was being made a scapegoat by those involved in the scandal. He also demanded a Central Bureau of Investigation probe into the case.
Ghosh was summoned by police the night of Sep 20 for interrogation. Over the past few days, he has continued to attack the Trinamool, alleging that a Trinamool leader has taken Rs.4 crore from Saradha boss Sudipto Sen. The party announced his suspension Sep 28 on disciplinary grounds.
Asked about Ghosh's grilling, Mitra said: "As I have said earlier, if he is being interrogated for airing his views, then that smacks of administrative vengeance".
The Saradha scandal came to light in April when the company closed shop across Bengal, unable to pay back depositors, many of whom were from poorer sections of society and had parked their life's savings with the company, lured by the promise of huge returns.
As the company went bust, many agents and investors committed suicide, and protests took place across the state.
Saradha promoter Sudipta Sen was arrested, along with his close aides, from Sonmarg in Jammu and Kashmir April 23.