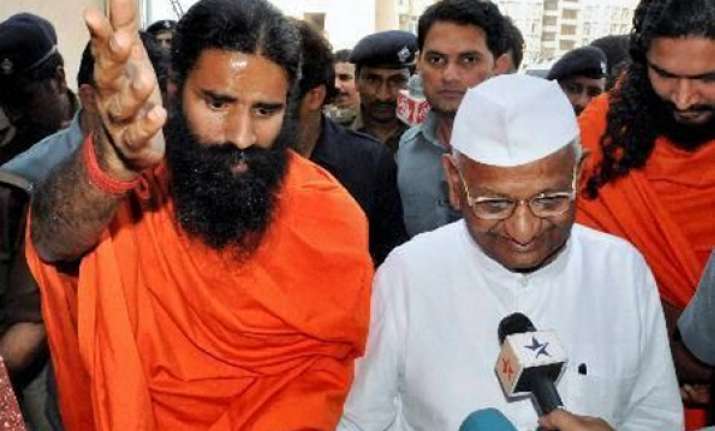 Noida, Jun 4: Playing down reports of differences with Ramdev, Team Anna today announced that the activists will participate in the August 9 protest by the yoga guru who has also been invited to join their agitation from July 25.  
The patch-up bid came a day after Team Anna member Arvind Kejriwal was snubbed by Ramdev for making personal attacks against the Prime Minister and other political leaders from his platform.
Kejriwal had abruptly left the Jantar Mantar venue of the joint fast by Ramdev and Anna Hazare but later clarified that he had moved out as he was unwell.
Today's decision was taken at a day-long meeting of Team Anna's core committee which was attended by Anna Hazare, Santosh Hegde, Kejriwal, Manish Sisodia and Kiran Bedi among others.
Hazare later told reporters that it was unanimously decided to invite Ramdev for Team Anna's protest from July 25.  "We have also decided to participate in the agitation called by Ramdev from August 9.
They will participate in our programme and we will do the same by taking part in their protest," Hazare said.
Kejriwal said it was decided that Hazare will not sit on fast from July 25 due to health reasons but he will be present.
Hazare also said that Team Anna members would tour the country from tomorrow to make people aware of the corruption allegations they have made against Prime Minister Manmohan Singh and 14 Union Ministers.
Asked about Ramdev's snub to Kejriwal for taking names of Prime Minister and other ministers, Hazare said, different people have different opinions.