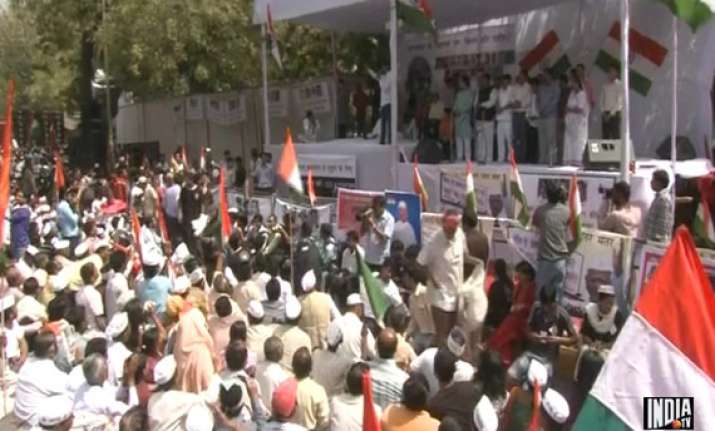 New Delhi, Mar 25:
Tricolours, Anna caps, patriotic songs—a day-long protest by Anna Hazare at Jantar Mantar today demanding justice for whistleblowers, who were killed fighting corruption, had all its usual ingredients.  
The dharna hotspot was almost full before 74-year-old Hazare emerged on the dais with his close aides at 11:15 am roaring 'Vande Mataram, Bharat Mata ki Jai and Inquilab Zindabad' in his inimitable style.
Waving tricolour and clapping to patriotic songs, the crowd responded to the chants of slogans raised by the India Against Corruption activists.
The mood was enthusiastic and passions were aroused as the protest started around 11 am with Team Anna member Kumar Vishwas challenging ministers to sent their children to streets to fight corruption.
"Many young whistleblowers have lost their lives fighting corruption. If ministers have the guts, send your young children to fight corruption in this scenario where whistleblowers are killed.
"You talk about sitting till midnight to pass Lokpal Bill. Don't do us any favour. Our soldiers work overtime in Siachen glaciers to secure the country," Vishwas said. 
Small films on whistleblowers were also played on the LCD screens erected at the protest site and brief descriptions about them were also given. In between, patriotic songs were also sung.
A big banner with a picture of Hazare and 19 "martyred" whistleblowers became the backdrop for the dais where Hazare was joined by Justice Santosh Hegde, Shanti Bhushan, Arvind Kejriwal, Kiran Bedi and Manish Sisodia.
Huge claps were there when a Team Anna member Sanjay Singh announced that a group from Rae Bareli, the Lok Sabha constituency of Congress chief
Sonia Gandhi
, had come over to the protest site.
Among the audience was a large group of members of RCM, a consumer forum, whose presence was acknowledged by Team Anna through an announcement.
The supporters of RCM wore a bandana with RCM inscribed on it and their banner read "videshi ko moka, swadeshi ko dhoka, yeh nahi chalega (red carpet for foreigners but countrymen cheated, this is not done)".  
Organisers had also earmarked huge area for media persons to cover the event and many protesters were seen arguing with journalists for not allowing them to enter the press enclave. 
One of the supporters even encountered a senior TV journalist and opposed him for saying that the crowd was around 3-4,000 at 11 am.
In between, slain IPS officer Narendra Kumar's uncle Rajkumar addressed the crowd saying, his nephew was so eager to do whatever necessary to eradicate corruption.  
He alleged that Kumar's post mortem was done in a hurry and the government speedily dismissed claims that he was killed by mining mafia without any investigations.  
"There was conspiracy by the government," he said. 
Team Anna member Sanjay Singh also attempted to shed their pro-BJP image by taking the name of Gujarat Chief Minister Narendra Modi while referring to the killing of an activist Amit Jatwa.
"Everybody talks about development in Gujarat but an activist who fought corruption was killed in Modi's state.  There is no action," he said.