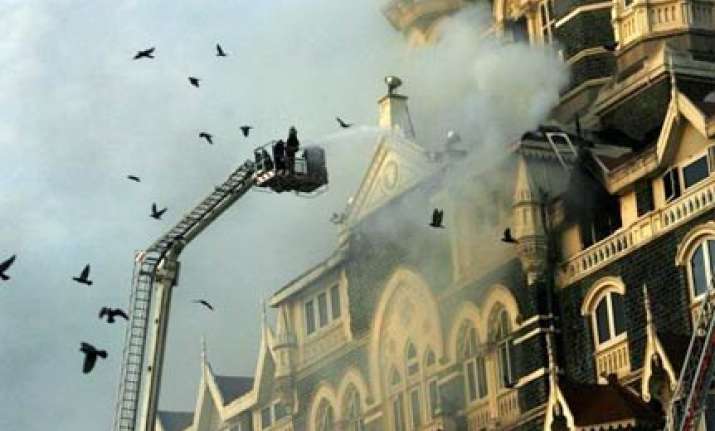 Washington, Nov 14 (PTI) Pakistan is unwilling to arrest the elusive mastermind of the Mumbai terror attack suspect, Sajid Mir, who is wanted in four continents, because the LeT terrorist is "well connected" and "too powerful", US counter-terrorism officials have said.
While attention has been focused on Pakistani-American terror convict David Headley, the real mastermind of the 26/11 attacks was Mir, according to the new investigative report.
"We can only push so far. It's very political. Sajid Mir is too powerful for them to go after. Too well-connected. We need the Pakistanis to go after the Taliban and al-Qaeda," a high-ranking US law enforcement official was quoted as saying by ProPublica in its latest investigative report which was also published in The Washington Post.
"It was Sajid Mir, another Pakistani, who allegedly led Pakistan based Lashkar-e-Taiba's bloody siege on Mumbai in November 2008," the Washington Post said.
Before the attack, Mir had spent two years using Headley to conduct meticulous reconnaissance on Mumbai, according to investigators and court documents.
"On November 26, 2008, Mir sat among militant chiefs in a Pakistani safe house tracking an attack team as its dinghy approached the Mumbai waterfront," the investigative report said.
"The Lashkar-i-Taiba terrorist group had made Mir the project manager of its biggest strike ever, the crowning achievement of his career as a holy warrior."
Despite best of their efforts, the report said, US officials acknowledge that the response has been insufficient.
"The effort to bring to justice the masterminds - under a US law that makes terrorist attacks against Americans overseas a crime - faces obstacles.
A US prosecution could implicate Pakistani military chiefs who, at minimum, have allowed Lashkar to operate freely. US pressure on Pakistan to confront both the military and Lashkar could damage counter-terrorism efforts," it said.
The charges are however denied by the ISI, who alleges that these are based on "malicious intent". But counter-terrorism officials across the continents take ISI's claims this with a pinch of salt.
"Lashkar is not just a tool of the ISI, but an ally of al-Qaeda that participates in its global jihad," said Jean-Louis Bruguiere, a French judge who investigated Mir. "Today Pakistan is the heart of the terrorist threat. And it may be too late to do anything about it," he was quoted as saying in the investigative report published on the front page of The Washington Post as Sunday's lead story.
He had direct access to Zaki-ur-Rehman Lakhvi, Lashkar's military chief, and ties to al-Qaeda in neighboring Afghanistan, according to a French investigation. After the September 11 attacks, Mir began grooming foreign volunteers who had come to Pakistan to wage war on the West.
Mir is also believed to have recruited American nationals including four militants from the Virginia suburbs. They were part of a multi ethnic crew of college graduates, US Army veterans and gun enthusiasts whose spiritual leader was Ali Al-Timimi, an Iraqi-American imam based in Falls Church.
In fact, many in Pakistan treated Mir as someone in the Pakistani military. During Mir's visits to check on training progress, everyone from the camp chief to army sentries treated him like a superior, Willie Brigitte the Afro-Caribbean terrorist who received training under Mir.
"It was clear to him that Mir was a military officer, he said," the report said.
Headley, was one of Mir's favourite. Mir decided to cultivate this man of two worlds as a clandestine operative, according to documents and officials.
Mir and his victims are at the centre of a wrenching national security dilemma confronting the Obama Administration, the report said.
"The question, simply put, is whether the larger interests of the United States in maintaining good relations with Pakistan will permit Mir and other suspects to get away with one of the most devastating terrorist attacks in recent history," it asked.
ProPublica said for five months, it has examined the investigation of the attacks and previous cases documenting the rise of Lashkar and conducted interviews with more than two dozen law enforcement, intelligence and diplomatic officials from the US, India, Pakistan, France, Britain, Australia and Israel.
ProPublica's investigation leads to another disturbing revelation: Despite isolated voices of concern, for years the US intelligence community was slow to focus on Lashkar and detect the extent of its determination to strike Western targets.
Some officials admit that counter terrorism agencies grasped the dimensions of the threat only after the Mumbai attacks.
The FBI investigation into the killings of the Americans has focused on a half-dozen accused masterminds who are still at large: Mir, top Lashkar chiefs and a man thought to be a major in Pakistan's Inter-Services Intelligence Directorate (ISI).