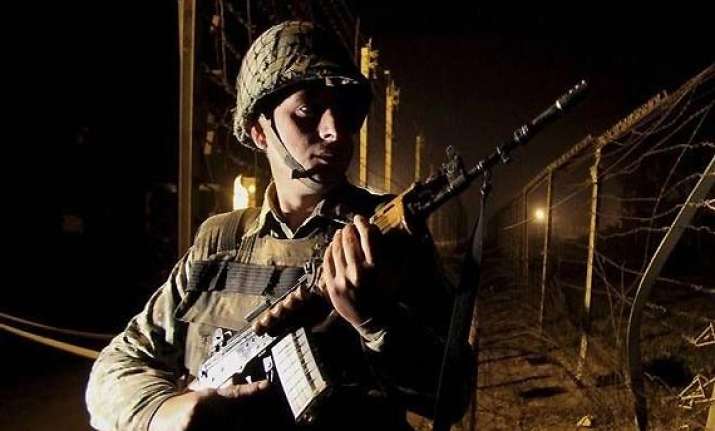 Poonch/Srinagar: In yet another ceasefire violation, Pakistani troops fired on Indian positions along Line of Control (LoC) in Poonch sector, forcing Indian troops to retaliate strongly, a defence spokesman said today.
Pakistani troops fired on Indian forward posts along LoC in Krishna Ghati, Balakote and Hamirpur belts of Poonch district around 2345 hours last night, defence spokesman S N Acharya said. 
Pakistan used heavy calibre weaponry apart from mortars and rockets to target Indian positions forcing troops guarding the borderline to retaliate effectively, he said.There was no loss of life or injury to anyone in the firing. 
There have been 13 ceasefire violations by Pakistani troops in past eight days, Army officials said. 
70 ceasefire violations by Pakistani troops have taken place this year from January 1 to August 5, which is 85 per cent more than those during the same period last year, they added. 
Meanwhile, Army today foiled an infiltration bid by militants near the Line of Control in Kupwara district of Jammu and Kashmir but there was no report of any casualty.
"Alert troops noticed movement of heavily armed militants along the Line of Control in Keran sector of Kupwara at around 2.30 am. The militants were challenged, triggering off exchange of firing between the two sides," an army official said.
He said the firing lasted for nearly three hours and the militants have apparently crossed the LoC back in Pakistan-occupied Kashmir.
"We are not leaving anything to chance and combing operations are going on in the area. So far no recoveries have been made from the scene of the gun battle," he said.
The official said there were no casualties reported in the operation.
Infiltration has been on the rise since the month of June this year as security officials believe that the handlers of militants in PoK are trying to push in as many ultras as possible to replace the cadres eliminated by security forces.
Army has said it has killed 28 militants in counter-insurgency operations since June 24 this year in Kashmir valley.
Meanwhile, security forces have launched a cordon and search operation this morning in Handwara area of Kupwara, 85 kms from here, following presence of militants in the area, police said.
The search operations were going on till reports last came in, the police said.The officer said the ceasefire violations are "very intense and totally unprovoked".
"Troops are ready to give a strong response to those firing from across. We have also strongly retaliated in these sectors-- their five posts have been damaged in retaliation by us," Sengupta said.
He said officers have been asked to respond strongly and effectively.
"We have fired heavy calibre weapons from our side in retaliation. They have been firing at us for past one week without any reason with an intention to cause casualties," he said.
He said the ceasefire violations from across are due to frustration over failure of infiltration bids by terrorists. "We have major inputs that there are a large number of terrorists --from 200-300 (waiting to infiltrate)," he said.
Since August 10, the army personnel feel that the daily Pakistani firing has brought the situation back to pre-2003 when jawans were entrenched in their mud posts with LMGs and MMGs round-the-clock to retaliate to any Pakistani provocation.
 "There was not much firing from Pakistan in past years. It was once or twice in two to three months that major ceasefire violation from Pakistan took place. But this year ceasefire violations and firing has increased. We have accordingly changed our strategy of movements," a jawan said.
"We are engaged sometimes in night-long exchanges. Peace on the borders seems to have ended," Jawan Raju Singh said.