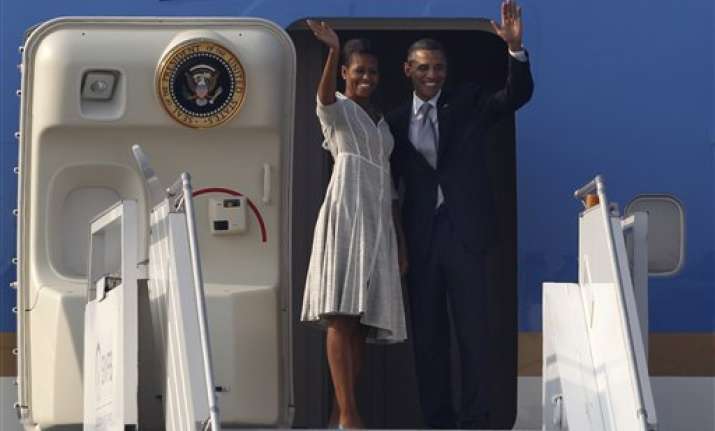 New Delhi, Nov 9 : US President Barack Obama today left here for Indonesia after his three-day visit to India, during which he announced support for New Delhi's bid for a permanent seat in the UN Security Council and asked Pakistan to bring perpetrators of 26/11 attacks to justice.
Obama and his wife Michelle were given a warm send-off by Minister-in-Waiting Salman Khursheed, Foreign Secretary Nirupama Rao and other officials. US Ambassador to India Timothy J Roemer was also present.
The Air Force One carrying the US First Couple took off from the Delhi Airport at 8.54 AM.Obama will be in Jakarta as part of his two-day visit to Indonesia, where he had spent four years of his childhood.The US President, who arrived in Mumbai on Saturday, met President Pratibha Patil, Prime Minister Manmohan Singh and other top leaders during his two-day stay here.
He had yesterday announced US support to India's bid for permanent seat in the UN Security Council and offered to play "any role" in reducing Indo-Pak tensions.
The US President also sent a strong message to Pakistan during his address to Parliament, telling Islamabad that "safe havens" inside its territory is "unacceptable".
Obama also asked Pakistan to bring to justice perpetrators of the 2008 Mumbai attacks that claimed the lives of 166 people.
Soon after his arrival in Mumbai, Obama had paid rich tributes to the 26/11 victims and said his stay at the Taj Mahal Hotel, one of the targets of the Mumbai strikes, was intended to send a message.
During his visit, India and the US agreed on a number of new initiatives, including cooperation on internal security, removal of Indian companies from the US sanctions' list and setting up of a research centre in India in civil nuclear field.PTI