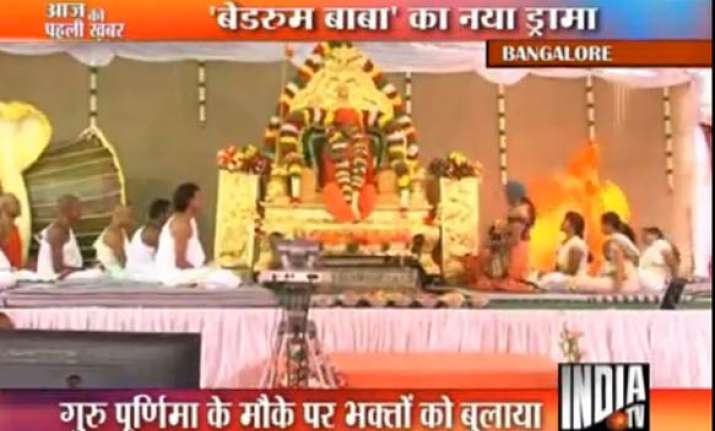 Banglore, Jul 16: Self styled Godman Swami Nithyananda on Friday showed mediapersons the "science of levitation". Addressing several thousand devotees at his ashram Nithyananda Dhyana Pitham, 40 km away from Bangalore on the occasion of Guru Poornima, Nithyananda said he would now show before the media the "science of energizing the kundalini(spinal structure)".  

The godman, who is out on bail in a sex scandal case, claimed he can defy the law of gravity and make anyone levitate. To prove this, he asked everybody to close their eyes for one minute and then open.

The self-styled guru then suddenly blowed out air from his mouth, after which five female devotees to his left, and seven male devotees to his right began jumping on mattresses while in the sitting pose.

It was claimed, that two doctors with electrodes attached to the bodies of the devotees were "noticing" the suddent spurt in energy levels in their bodies on a computer.

The swami smiled and said he would do it again. This time, instead of blowing out air from the mouth, he just waved his hand, and lo! his devotees again jumped in the air.

Nithyananda then turned towards his devotees and said he would now "evergize" his devotees. As he blew out air from his mouth, several of his devotees in the crowd began jumping, with one female devotee wriggling her body on the ground.

"Do not consider this miracle as a drama", Nithyanand told the mediapersons gathered there. "I can energize kundalini levels by 1300 per cent", he claimed.I am trying to revive India's ancient spiritual sciences, claimed the self-styled guru. Tamil actor Ranjitha was also present at the ashram. She also tried to jump like other devotees.