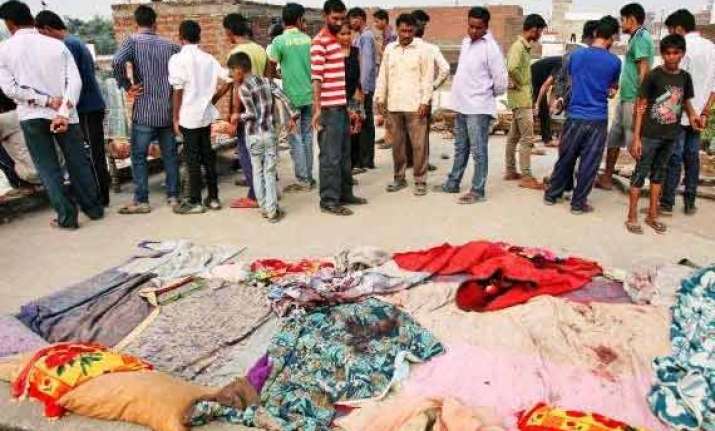 Jammu/Bhopal: Saying that it did not expect Pakistan to carry out such an intensified shelling and firing in Jammu on the day of Eid on Monday, the Border Security Force has assured that the force will take whatever retaliatory action it has to.
"Whatever retaliatory action BSF has to take, will be undertaken," director general of BSF DK Pathak told reporters in Jammu.
"Our force is a professional force and we will respond very professionally to the Pakistani firing," he said.
Pathak flew to Jammu from New Delhi and rushed to RS Pura border belt to chair a meeting of top officers of the Jammu Frontier to review the situation emerging in view of shelling and firing in the Arnia belt.
"The incident is not a good incident. There has been casualties, but we have responded to it," Pathak said. "We were not expecting that they will resort to such an intensified shelling and firing on Eid," he added.
"Every ceasefire violation has been engineered by them and we are not responsible for any ceasefire violation," he said.
In one of the worst ceasefire violations by Pakistan, five villagers were killed and 34 injured today in heavy mortar shelling and firing from across the international border and line of control in Jammu and Poonch sectors.
Shelling exposes Pakistan's frustration'
Condemning the shelling on civilians in Arnia belt of Jammu that left five dead, J&K chief minister Omar Abdullah on Monday said that the targeting of civilian areas exposed the frustration of the Pakistani government after its failure to gain international attention on the Kashmir issue.
"They (the Pakistani leadership) have nothing else to speak, but only Kashmir. Whenever they go abroad, they try to raise only Kashmir issue, but every time they miserably fail to get international attention. The cross-border shelling is an indication of their frustration," he told reporters after meeting civilians injured in the shelling at the Government Medical College Hospital in Jammu.
Omar strongly condemned the firing and said, "Either we are unable to understand Pakistan's motive behind the increase in the incidents of ceasefire violations or the internal situation in Pakistan is so bad that by targeting Indian side they want to divert the attention of their own people from their internal turmoil."
The chief minister said that at a time when people of Jammu & Kashmir should be getting Eid greetings from the Pakistan side, the Pakistani army has gifted them with bombs.
"There was no reason to violate the ceasefire. It was a deliberate attempt from the Pakistani side to target the civilian areas. The death and injury to so many innocent civilians is a part of their nefarious designs," he said.
'Army instructed to reply to ceasefire violations'
The government has given instructions to the Army to reply to ceasefire violations by Pakistan at the border, Union minister Ravi Shankar Prasad said on Monday.
"The Army has been instructed to reply to the ceasefire violations and it is acting on the issue," Prasad told reporters in Bhopal on the issue of ceasefire violations.
The Union minister for law and justice, communications and IT was speaking at the Bhopal airport, before leaving for Jabalpur along with Madhya Pradesh chief minister Shivraj Singh Chouhan to lay the foundation stone for an electronics manufacturing cluster and IT park.
In one of the worst ceasefire violations, five villagers were killed and 29 injured in heavy mortar shelling and firing by Pakistani troops targeting hamlets and outposts along the international border in Jammu district.