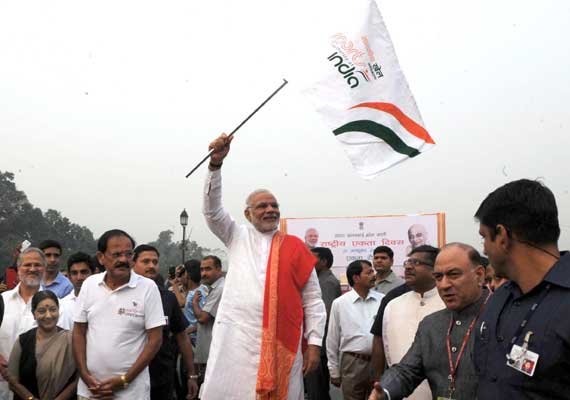 New Delhi:  Prime Minister Narendra Modi today dedicated birth anniversary of Sardar Vallabhbhai Patel as National Unity Day, saying a nation that disregards its history cannot create one and made a veiled reference to anti-Sikh riots that followed then Prime Minister Indira Gandhi's assassination this day 30 years ago.  
Got up as an event to accord Sardar Patel, the 'Iron Man of India', his place in history, the Government made it clear that this was no attempt to belittle the contribution of any other leader.
"Let us not forget that a nation that disregards its history can never create one...Don't divide history, legacy in narrow confines of ideology," Modi said.  
Flagging off run for unity on the 139th birth anniversary of the first Home Minister of the country celebrated as "Rashtriya Ekta Divas", Modi said Patel devoted his life for the unity of the Nation and it was unfortunate that "our very own people" were killed on his birth anniversary 30 years ago.  
In an apparent reference to riots which took place after the assassination of then Prime Minister Indira Gandhi in 1984, Modi said, "Patel never deviated from his vision of national unity despite facing obstacles in his political life.  It is a misfortune of this country that 30 years ago on the birth anniversary of such a leader an incident which shook the unity of nation took place."