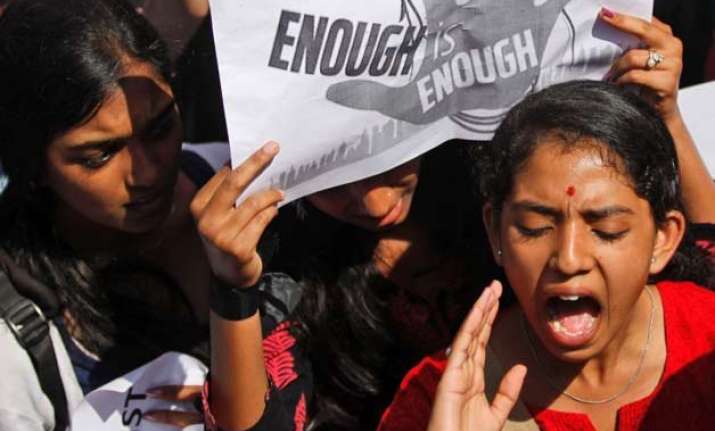 New Delhi: Scaling down its first large-scale initiative for women, Narendra Modi government has restricted its plan of opening rape crisis centre in every district of the country to one centre per state and Union territory.
Now, there will be just 36 centres in the country, their locations will be decided by the individual states and Union territories.
Earlier, Union women and child development minister Maneka Gandhi had suggested 660 Nirbhaya Centres - one each in the 640 districts and another 20 in six metros.
Only Rs 18 crore has been allotted to the project, a major climb down from earlier proposal of Rs 244 crore.
All India Democratic Women's Association member Jagmati Sangwan said, "Our information is that the PMO (Prime Minister's Office) has remarked that the police are sensitive enough and that there is no need for such centres."
She dubbed the final plan "an impractical solution to a problem of mammoth proportions".
"If a woman is raped in Jaisalmer, say, she will not go to a crisis centre in Jaipur," Sangwan argued.
"This is a strong indicator of how the PMO is detached from reality, and shows this government's tendency for over-centralisation." She added.
The original plan, mooted last June, included building double-storey centres costing Rs 36.98 lakh each. They were to be one-stop centres for assaulted women offering a safe shelter where they could be counselled, treated and rehabilitated.
PMO officials had objected the proposal of making standalone buildings. They suggested the centres could be set up at government hospitals. Ministry officials felt this would make the centres too "public" for the victims.
"As of now, the centres will be built or rented near hospital buildings," a senior ministry official today said.
The approved plan allows each centre to have nine employees, including a paramedic who will refer the complainants to hospitals, a lawyer, a counsellor, and a retired police officer not below the rank of inspector to help the complainants file FIRs.
The centre will double as a short-stay home for the complainants and, if necessary, victims will be referred to long-stay homes.
The plan awaits law ministry's approval; it may have a video-conferencing facility with the police and the courts, to be overseen by IT staff. Each centre will also have an integrated helpline.
The functioning of all the centres will be evaluated by a "national task force" headed by the ministry secretary.
The Nirbhaya Centres have been modelled on similar units in Malaysia, Bangla­desh, South Africa, Britain, Rwanda, Zambia and Australia, which are run in collaboration between government health departments and NGOs.