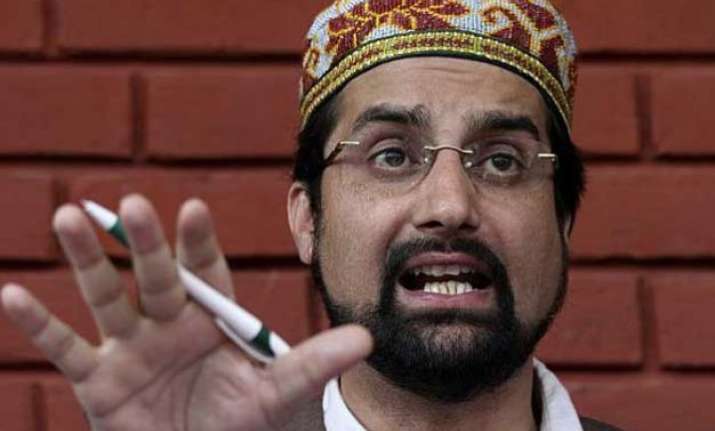 New Delhi: Mirwaiz Moulvi Muhammad Umar Farooq, the chairman of Hurriyat Conference (M), has been listed among the Top 10 influential Muslim political faces of the world.
He stands at number nine in the survey conducted by a Jordan-based Royal Islamic Strategic Studies Centre (RISSC).
Besides, Mirwaiz also made it to the list of 500 most-influential and most-famous Muslims in the world for the second year running as per the seventh annual issue of - 'The Muslim 500: The World's 500 Most Influential Muslims'.
For the survey, the most-influential personalities were categorized into 13 groups -  Scholars, Politicians, Administrators of Religious Affairs, Preachers and Spiritual Guides, Philanthropists and people involved in Charity, Development, Social Issues, Business, Science and Technology, Arts and Culture, Media, Celebrities and Sports Stars.
Interestingly, the Kashmiri separatist leader is listed in the political section rather than religion. He is the lone face as Muslim political figure from India in the survey.
Pakistan's former cricketer & politician Imran Khan and noble peace prize winner Malala Yousufzai also feature in the list of influential Muslims.
The list has been prepared focussing on the persons who have the power (be it ideological, financial, cultural, political or otherwise) to bring change that will have a significant impact, positive or negative, on the Muslim world, said the RISSC survey.
According to the survey, Farooq has inherited as the 14th Mirwaiz (a Kashmiri term for head priest) in 1990 at the age of 17 after the assassination of his father.
"At the young age of 20, he became chairman and founder of the All Parties Hurriyat Conference, a grassroots coalition of pro-freedom parties in Jammu & Kashmir. He has raised the Kashmiri problem at the UN, the EU parliament, and the OIC while advocating dialogue with both India and Pakistan so that the aspirations of the Kashmiri people may be realized," read the survey report.
The top 10 personalities in the list of 500 influential Muslims included the names of King Abdullah II, Professor Dr. Sheikh Ahmad Muhammad Al-Tayyeb, the Grand Sheikh of the Al-Azhar University, King Salman bin Abdul Aziz, Ayatollah Hajj Sayyid Ali Khamenei, King Muhammed VI, Sultan Qaboos Bin Said, General Al-Sheikh Mohammed, Recep Tayyip, Ayatollah Sayyid Ali Hussein Sistani and Hajji Muhammed Abdul-Wahhab Amir of Tablighi Jamaat, Pakistan.