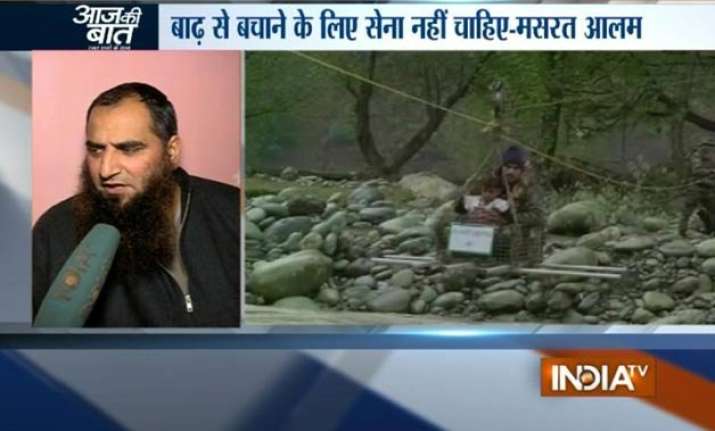 Srinagar: Separatist leader Masarat Alam, whose release created a huge countrywide controversy, today said that Kashmir valley does not need Indian forces in case of natural disasters.
In an exclusive interview with IndiaTV, Alam said that there is no need of any help from anybody in the state. "Our associates went to Badgam and Srinagar, we do not feel any kind of need. If disasters come, we do not need army and National Disaster Response Force (NDRF). We think these are occupational forces so how would they bring relief? Last time, they did specific relief operation and rescued their own people. People here know that."
Alam, known for organizing 2010 unrest in the valley, said "Meet people and ask them what did was their (army's) role last time. The real relief was done by local youths. They made boats themselves and rescued people, arranged water and foods. I got such reports while I was in the jail."
During last year's floods, the then Jammu and Kshmir government of Omar Abdullah was blamed for not doing enough for the flood hit people. When asked if the different government in the state would make any difference, Alam said, "Nothing changes if the government changes. We do not hope anything from the government. (We) Do not believe in Mufti. They are same people."
While Masarat Alam was saying that the people do not need the forces, the army has deployed 75-100 soldiers in every affected area, so that instant relief could be provided to the people.