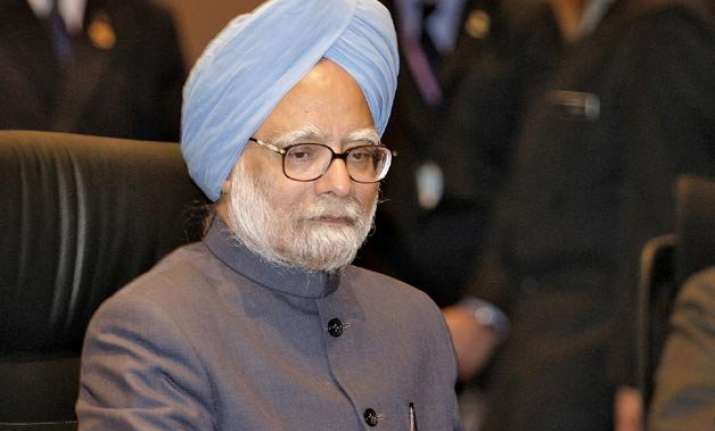 Former Prime Minister Manmohan Singh along with industrialist Kumar Mangalam Birla, ex-coal secretary PC Parakh and three others as accused have been summoned by a special court to appear before it on April 8 in a case pertaining to allocation of Talabira-II coal block in Odisha in 2005.
The Congress party including its enigmatic president Sonia Gandhi has come out with a passionate defence of the former prime minister at a special press conference and gave a detailed explanation to argue that Singh was above board in all decision on coal block allocations. While the Congress party believes that Singh's integrity, fairness, impartiality and adherence to transparency is unimpeachable and unquestionable, there are some questions that need to be answered.
Known for his personal integrity and humble lifestyle, Singh is being investigated for criminal breach of trust, criminal conspiracy, cheating and corruption, a prosecution lawyer had said.
Often referred to as the 'accidental Prime Minister,' much has been said about the apparent weakness or strengths of 82-year-old Singh as a leader. Sanjaya Baru, who served as Singh's media adviser from 2004-2008, wrote a book titled 'The Accidental Prime Minister' in which he described Singh's first innings (2004-09) as outstanding; however, his second round, beginning 2009—by which time Baru had left the Prime Minister's Office—was full of trouble for Singh. Baru in his book throws enough hints showing Singh in a different light. He said Singh's attitude and response to corruption and his unwillingness or inability to quit as prime minister at the right time, proved fatal to his image.
The book reveals that Pulok Chatterjee, a joint secretary in PMO worked as bridge between Sonia Gandhi, the Congress president and Dr. Manmohan Singh. "Pulok, who was inducted into the Manmohan Singh PMO at the behest of Sonia Gandhi, had regular, almost daily, meetings with Sonia at which he was said to brief her on the key policy issues of the day and seek her instructions on important files to be cleared by the PM. Indeed, Pulok was the single most important point of regular contact between the PM and Sonia. He was also the PMO's main point of contact with the National Advisory Council (NAC), a high-profile advisory body chaired by Sonia Gandhi..."
Even Baru's book did acknowledge that Manmohan was an honest man and did not indulge any corruption. However, the book depicts that he thought that the conduct of his ministers was not his responsibility but the Congress leadership's.
"Dr Singh's general attitude towards corruption in public life, which he adopted through his career in government, seemed to me to be that he would himself maintain the highest standards of probity in public life, but would not impose this on others. In other words, he was himself incorruptible, and also ensured that no one in his immediate family ever did anything wrong, but he did not feel answerable for the misdemeanours of his colleagues and subordinates. In this instance, he felt even less because he was not the political authority that had appointed them to these ministerial positions. In practice, this meant that he turned a blind eye to the misdeeds of his ministers. He expected the Congress party leadership to deal with the black sheep in his government, just as he expected the allies to deal with their black sheep. While his conscience was always clear with respect to his own conduct, he believed everyone had to deal with their own conscience," Baru said in this book.
The achievements of the Congress led UPA government were credited to Gandhi family and more often to Rahul Gandhi as would become the face of the party ultimately. "The Congress party's obsession with giving the entire credit for MGNREGA to the Gandhi family reached a point where it may have actually embarrassed the family. When I tried to correct that impression, I found myself in a spot of trouble."
The ministers of the UPA government did not even brief Dr. Singh on important issues but they did brief Sonia Gandhi. "Pranab Mukherjee, now President of India, was never so transparent either in expressing his disagreement or support. After returning from an important visit to Washington DC, Pranab chose not to brief the PM for three days. He had gone to see Sonia Gandhi but had not sought an appointment with Dr Singh."
Probably Manmohan was not responsible directly for the wrongdoings of his government but he is responsible for silently watching all that.
He is an honest man but his misplaced loyalty towards Sonia Gandhi ultimately cost him his image that put a question mark on his honesty. As Sanjay Baru says in his book, "There are questions that will probably haunt Dr Singh too, most of all: why did he not quit when he realised he had lost all vestiges of control over his own government? If his failure to do so arose from loyalty to the Congress or a promise to Sonia, it was misplaced-and unrewarded-loyalty. Except it enabled him to remain in office, even if not in power. His apparent commitment to ensuring Rahul's succession, perpetuating the Congress party's control by one family, was even more misplaced."