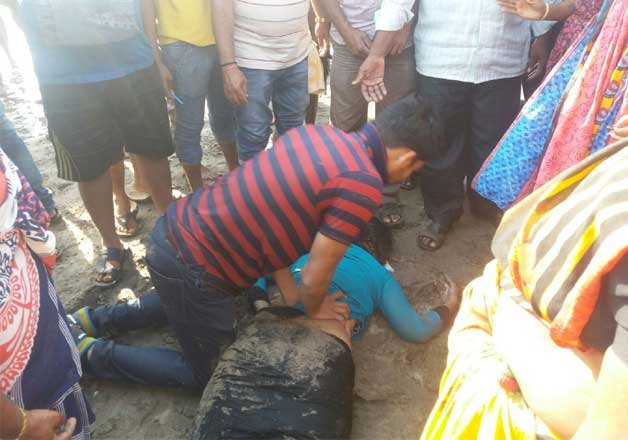 Raigad: At least 14 college students, including three girls, who were part of a 130-member picnic group drowned in the Arabian Sea at Murud Beach in Raigad district, around 150 km south of Mumbai, police said here on Monday.
"The students were part of a group from Pune's A Inamdar College and had come to the picturesque Murud beach for a picnic," Superintendent of Police Suvez Haque said.
So far, of an estimated 20-22 students who had gone into the sea, four girls have been rescued till late afternoon and a search continues for the others. The Indian Navy and the Indian Coast Guard deployed a Chetak helicopter and a speed boat besides police divers for the combined mega rescue operations.
College Principal P A Inamdar told mediapersons that the senior students, studying computer science, had gone on a college-sponsored annual picnic accompanied by five staff members and other support staff.
"We are shocked by this tragedy. We are making all efforts to help the students and their families with the help of the local villagers and police. A team of our trustees has already left Pune for Raigad for rendering further assistance," Inamdar said, adding that the process of ascertaining the identity of the victims and informing their families was underway.
Those confirmed dead have been identified as Rafiya Anasari Mumtaz, Shafiya Anasari Mumtaz, Ansari Sumaiya Akil, Kazi Sheefa Abdul Bashid, Pan Supriya Swapan, Sana Munir Shaikh, Salgar Swapnali Shivaji, Choudhary Sajeed Saipanmulk, Shaikh Iftekar Abbasali, Shaikh Samreen Firoz, Sayeed Farin Husen, Ansari Muhammed Yusuf Iftekhar, Pandugayala Venkat Raj. 
One student Madki Saif Ahmad is missing but has not been confirmed dead. As per available information, the number of casualties may go up as some more students were reporting missing in the water. 
Rescue operations are underway in full swing by locals and the Raigad police with help from nearby police stations. The cause of the accident is still unknown.
(With IANS inputs)
Video: