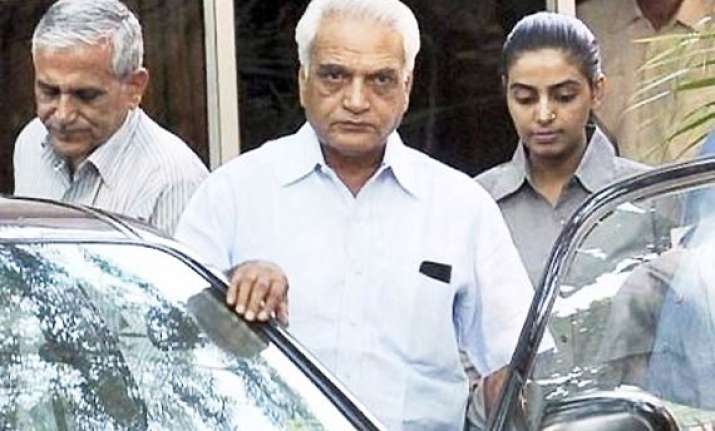 Jodhpur, Nov 15: The overenthusiastic staff of Mathura Das Mathur Hospital here has provided costly medical tests free of costs for former minister Mahipal Maderna, an accused in the Bhanwari Devi kidnapping case, by showing him a senior citizen in their records when he is only 59 years old.

In the tests conducted by the hospital, his age has been mentioned 65 years, entitling him free medical test facilities.

Maderna had been admitted to the hospital after he complained of chest pain on Saturday night. On the pretext of the reported medical conditions, he had skipped the CBI interrogation. Sources said that he had sent a medical certificate to the agency officials expressing his inability to show up.

Maderna was admitted to the intensive care unit of the hospital. "All medical tests were conducted on him. His age in the medical reports has been mentioned 65 years which enables him to get the tests conducted on him free of costs being a senior citizen," said an employee of the hospital.

The hospital authorities kept Maderna in the ICU despite all the tests showing his condition completely normal. Mahipal Maderna who has been sacked from the cabinet and suspended from the Congress, seems to be evading CBI interrogation by hospitalization.

The tests had been conducted for blood sugar, blood urea, liver function (S Bilirubin, S Got), heart and other signs of medical conditions.

Hospital superintendent Dr Arvind Mathur said that those who had brought Maderna had told the doctors his age 60, but when the admission ticket was being issued at the hospital counter, the family members must have mistakenly mentioned the age as 65.

"The mistake will be corrected and fee for the various tests will be taken from the patient," said Dr Mathur.

He added that a final observation on Maderna will be carried out on Tuesday morning. "We will decide whether to keep him in the ICU after that," said Dr Mathur.

However, sources said that the hospital wanted to conduct eco-cardio test on Maderna to which he refused. It is surprising as to why Maderna has not given his consent to the test when he was admitted in the hospital on the grounds of chest pain.

"He might probably be scared that the test result will come out normal and his chances of remaining hospitalized might end," said a source.

Sources also said that the family members were planning him to shift to some hospital in Delhi after keeping him here for a day as it will get him more away from the CBI.

The CBI has interrogated Maderna twice, once alone and then in presence of Congress MLA Malkhan Singh.

Apart from Maderna, Malkhan Singh's sister Indra Singh is also complaining of health problems but had come for the interrogation on Friday.