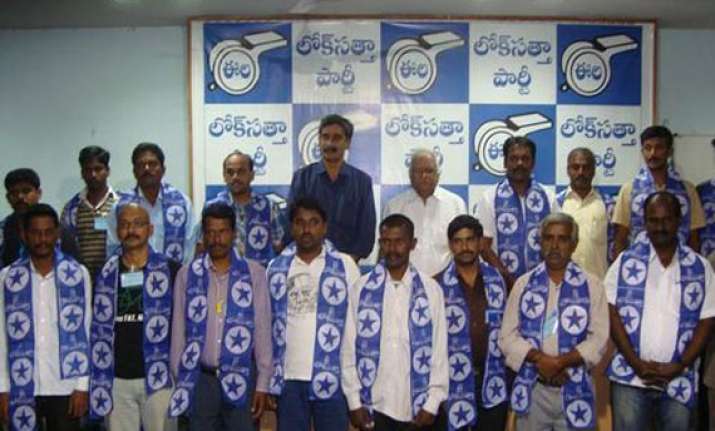 Hyderabad : The Loksatta Party of bureaucrat-turned-politician Jayaprakash Narayan has decided to go alone in Andhra Pradesh with both the BJP and TDP not responding to its proposal for an alliance.
The party will contest 50-60 assembly seats and 5-6 Lok Sabha seats in Telangana and 100 assembly seats and 15-20 Lok Sabha seats in Seemandhra (Andhra Pradesh), announced Loksatta state president Katari Srinivasa Rao.
The party has already named candidates for 14 assembly seats in Telangana.
Loksatta's national president Jayaprakash Narayan, who was the only party candidate to get elected to the assembly in 2009, will contest Lok Sabha polls. He will be filing his nomination for Malkajgiri Lok Sabha seat on Monday.
JP, as he is popular among his supporters, will launch his campaign with a road show Sunday.
Srinivasa Rao said the party would go alone since there has been no response from the Bharatiya Janata Party (BJP) and the Telugu Desam Party (TDP) to its initiative for an electoral alliance or seat adjustments.
"Although those parties are not paragons of virtue, the Loksatta has proposed electoral tie-ups keeping in mind people's future. Yet, they have maintained studied silence on joining hands with the Loksatta Party at least on some aspects of its agenda," he said.