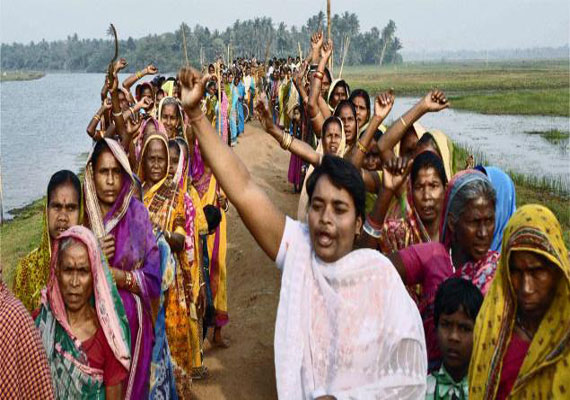 Bhubaneswar: Anti-displacement activists today staged demonstrations at the Posco's proposed plant site and in the state capital, in protest of environment clearance granted by the Centre and Odisha government's recommendation of prospecting licence in favour of the South Korean company.  
While CPI-backed Posco Pratirodh Sangram Samiti (PPSS) staged a protest meeting at Patana, one of the seven villages in the proposed plant site near Paradip, Anti-Posco Solidarity Forum activists observed a protest day in the state capital.
"Our protest was held here to signal the visiting South Korean President Park Geun-hye against the project. We will not allow the project to come up over our fertile and multi-crop land," said PPSS president Abhaya Sahoo.  
The villagers went round the village before gathering at Patana village, Sahoo said, adding the people are united and opposed to the project even as the state government tried to suppress the agitation by brute force.
Over hundreds of slogan-shouting agitators of the Forum congregated at the Master Canteen Square here protesting against the four-day visit of the South Korean president to India beginning today and demanded immediate cancellation of green clearance accorded by the Centre to Posco.