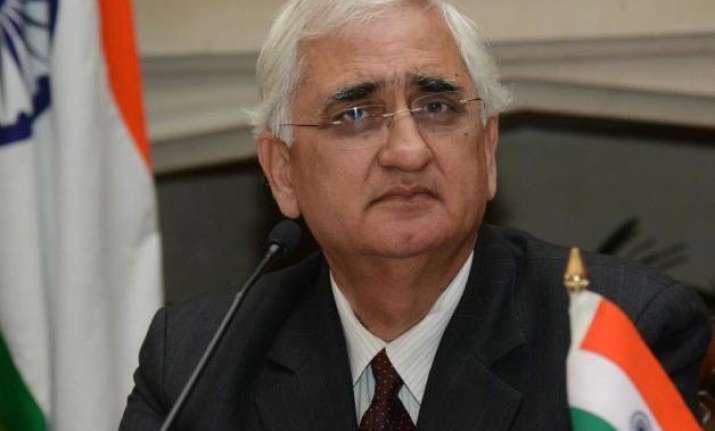 Jaipur: India should not join the US in its intervention in Syria or Iraq as this may create a problem for the country, Former External Affairs Minister Salman Khurshid today said.
"America is sharp in diplomacy and it may want India to associate with its global policy and thought, and join them in what they are doing in Syria and Iraq," Khurshid told reporters at the party office here.
"I have sympathy with the point of view of US on ISIS, which is a serious problem, but if they think that India would send its troops for such missions, then this would create a serious problem for India," he said.
The Congress leader said Prime Minister Narendra Modi should deal with America carefully.
"Both the leaders -- PM Modi and US President Barack Obama -- are in present reading each others mind to find out ways to fulfil each others expectations. I hope that PM Modi would understand the situation and deal with carefully," he said.
Replying to a question, Khurshid said the government has not achieved anything big in the last one year.
Commenting over the government's policy about Pakistan, he said the Narendra Modi government's policy about the neighbouring country was "not clear".
"They used to criticise our government over the government's attitude about Pakistan but what this government has achieved? This government even could not understand Pakistan's complex approach towards India," he said, while claiming that the former UPA government had also made efforts to persuade Pakistan to take action against terrorism and also asked the US about it.
He said that when people voted BJP in the Lok Sabha elections last year, they were hoping that good days would come, as was promised by the party, but nothing that sort happened.
Khurshid said the country's internal problems remained unsolved during the present government's rule and people were feeling betrayed.
"The Prime Minister is conducting foreign tours. I am not against it if the approach behind this exercise is good and result oriented, but nothing concrete has been achieved on this front too, in the last one year," he said.
Khurshid also said that the attitude of Pakistan's Prime Minister Nawaz Sharif changed slightly after he visited India last year.
Over PM's announcement of USD 1 billion aid to Mongolia during his recent visit, Khurshid said he "hopes that the announcement would be fulfilled", while commenting that the former governments have also made efforts to strengthen relations with Mongolia.