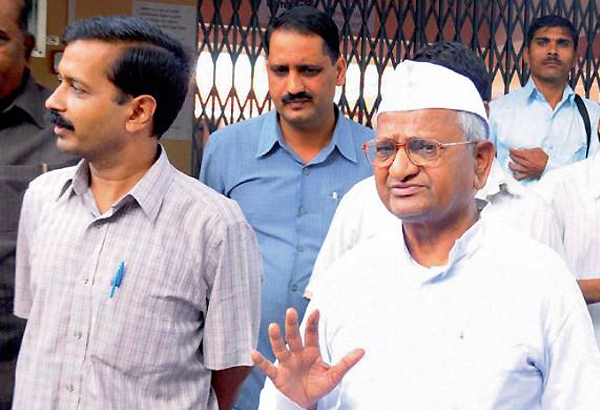 Ahmednagar, Nov 28: Key Anna Hazare aide Arvind Kejriwal met the Gandhian at his native village Ralegan Siddhi on Sunday.

According to sources close to Hazare, Kejriwal briefed the activist about the controversy surrounding former IPS officer Kiran Bedi, another Team Anna member.

Kejriwal, who had to wait for about two hours to meet Hazare as the latter was away attending a wedding, left for Delhi later.

Delhi Police on Sunday slapped a case of cheating against Kiran Bedi for allegedly misappropriating funds meant for her NGOs in line with a court's directive. However, Bedi has claimed that she has "sound evidence and endurance" to deal with the FIR.

Kejriwal, who did not speak to mediapersons at Ralegan Siddhi, is likely to address a press conference over the issue in Delhi today, the sources said.

Talking to PTI, Hazare warned of a satyagraha and a nationwide agitation if a strong Jan Lokpal Bill is not passed during the ongoing winter session of Parliament.

However, he said he had faith in the Prime Minister and other Central leaders, who had assured him of passing a strong Lokpal bill.

"The nation is waiting for this bill since the last 43 years. If the introduced bill is weak or not introduced and passed in Parliament in the assured time frame, the hope of making India a super power would be lost," Hazare said.