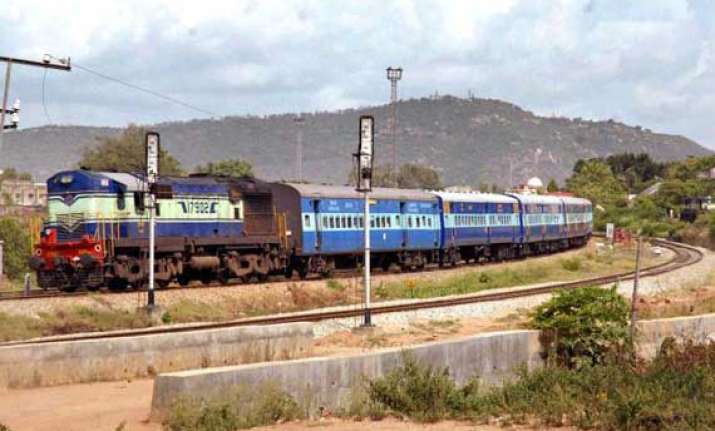 Bangalore: Karnataka from where Railway Minister D.V. Sadananda Gowda hails, got only one premium train, four express trains and three passenger trains in the maiden railway budget he presented Tuesday.
The premium express train will run from Bangalore to Kamakhya at Maligaon near Guwahati in Assam and pass through Andhra Pradesh, Odisha and West Bengal.
Of the four express trains, the Bangalore-Mangalore service will operate daily, while Bangalore-Shimoga service will run bi-weekly and Bangalore-Tatanagar and Bidar-Mumbai will roll once a week.
Bidar is about 650 km from Bangalore in the state's northern region.
The Bangalore-Tatanagar express will operate from the new railway station at Baiyyappanahali in the city's eastern suburb.
Gowda who represents the Bangalore North parliamentary constituency, did not include Karnataka in the list of new five Jansadharan trains and seven AC express trains he announced for other cities/states.
The three daily passenger trains will run from Yesvantpur in Bangalore north to Tumkur, Byndoor in the coastal pilgrim town of Udupi to Kasaragod in north Kerala and Dharwad to Dandeli in north Karnataka.
Three pairs of MEMU (mainline electric multiple unit) service will run from Bangalore to Ramanagaram in the old Mysore region six days a week except Sundays for the convenience of suburban commuters.
Similarly, a daily DEMU (diesel multiple unit) service will run from Bangalore to Neelmangala in Bangalore rural district and from Yesvantpur to Hosur (across the Karnataka border in Tamil Nadu) six days a week barring Sundays.
"With the challenges posed by the steadily increasing urban population concentration in metros and in million-plus cities, a holistic approach to urban transport is required. A smooth and seamless inter-modal access is essential to improve urban mobility and, therefore, a passenger-centric focus will be given for creating urban transport infrastructure," Gowda observed.
There is no extension of trains operating from Karnataka.
"One tourist train will run from Gadag to Pandarpur via Bagalkot, Bijapur and Solapur, covering the pilgrimage and tourist places of Karnataka and Maharashtra," Gowda said, in his 75-minute long address to the lawmakers of the country in the lower house.
Gowda also declared the survey for the Mysore-Kushalnagar portion of the new line up to Medekere in the southern region of the Western Ghats had been completed and the state government had agreed to share cost of the project to lay the tracks.
"The Mysore-Kushalnagar-Medekere line will provide rail connectivity to important tourist destinations in Kodagu (Coorg). I propose to pursue this project to obtain approvals after completion of the remaining survey up to Madekere," he said.
Of the 18 surveys for new lines the railways will take up, four will be across Karnataka - from Gabbur to Bellary, Shimoga to Mangalore via Sringeri, Talguppa to Siddapur and Gadag to Harphanhalli.
The railways will also take up track doubling from Mangalore to Suratkal via Ullal in the coastal area of the state.