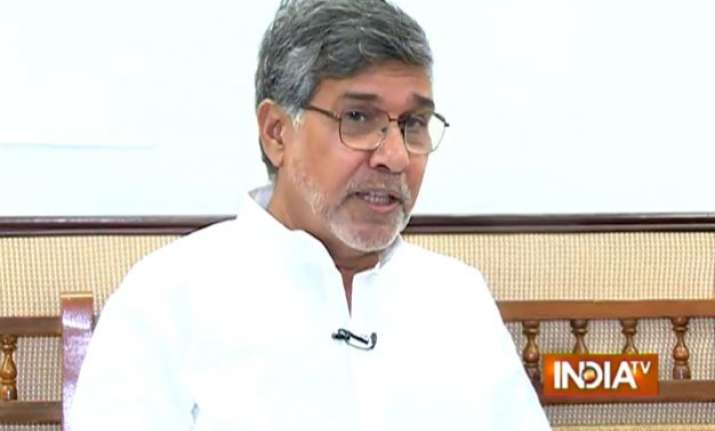 New Delhi: It's very rare that a person's name becomes synonymous with a noble cause across the world.  Kailash Satyarthi is one such name. The moment one mentions 'child rights', the face that immediately strikes your mind is that of Kailash Satyarthi.
 
His indomitable and persistent efforts to emancipate thousands of hapless children from the shackles of slavery and trafficking found resonance throughout the world. Kailash Satyarthi was all alone when he started his fight for 'child rights'. Earlier, the world hardly viewed child rights as an issue grave enough to be concerned about.
 
It took 10 years for Satyarthi to make his voice heard in the highest forum of the world-  United Nations Organisation (UNO) which took cognizance of his relentless struggle and adopted the 'Convention on the Rights of the Child', commonly known as CRC.
 
The ultimate recognition for Satyarthi's spirited fight came in 2014 when he was awarded the Nobel Prize for Peace. He jointly shared this award with Malala Yousafzai of Pakistan.
 
Kailash Satyarthi has returned from United Nations after participating  in United Nations Sustainable Development Goals (UNSDG) summit where he successfully advocated inclusion of all important provisions for ensuring effective execution of 'child rights' across the world.
 
In an exclusive interview with indiatvnews.com, Nobel laureate Kailash Satyarthi opened up on every aspect of his long struggle, his journey from an electrical engineer to a child rights activist, his expectations from Prime Minister Narendra Modi and Indian MPs, besides  a host of other issues that matter for the welfare of every child on this planet.
Here goes the full transcript of the interview:
 
Highlights of his UNGA visit
 
This year's United Nations General Assembly (UNGA) meeting was very important from the Child rights perspective. Two days were allotted for Sustainable Development Goals (SDG) summit and I was invited to speak at this event.
 
I have always believed that unless and until child labor, child enslavement and child trafficking are completely eradicated and every child is provided with quality education, we'll not be able to achieve either of the development goals.
 
As of today, around 17 crore kids across the world have been forced into child labor while around 20 crore adults are sitting idle, unemployed. Most of these unemployed adults are parents of these child labourers.  
 
How can you achieve the target of eradicating poverty and unemployment unless you make these children replace their unfortunate parents? How would you achieve the goal of universal education if children in such large numbers do not go to school?
 
Another issue that has emerged in recent times is 'violence against children'. Children are being subjected to sexual violence or violence because of war or violent environment. Unless they are all brought into mainstream, development goals can't be achieved.
 
What is really heartening is that all our demands relating to child rights have been accepted this time by United Nations and governments across the world. Sustainable Development Goals (SDG) now includes issues like eradication of child labor, forced labor, illiteracy, child marriage, child enslavement and child trafficking. And a time-bound programme has been announced to achieve these goals and it means a lot.   
 
Sustainable Development Goals (SDG) Vs Millennium Development Goals (SDG)
 
It's true that Millennium Development Goals(MDG) were not achieved properly. But it does not mean that we should stop setting goals just because of this.
 
At the same time, it should be understood that there are a few essential requirements for achieving such goals and they are – political willpower, social pressure, proper funding etc.  And all these factors have been taken into account this time.
 
Let's come to the difference between SDG and MDG. Earlier, the governments finalized MDG primarily on the basis of their internal discussion and a few inputs from outside.
 
Final decision on SDG, on the other hand, was in process for quite some time and it's very inclusive.  SDG has been decided through a consultative process between governments, corporate houses and Non-government organizations (NGOs).
 
Major roadblocks in the path of child rights in India
 
The biggest roadblock is our attitude towards children, especially 'girl child'. We need to develop a sense of equality, dignity and respect for our children which is completely missing.  
 
Either we believe in showing mercy to them or look at them as cheap labourers and consider them fit for exploitation including sexual exploitation in case of girl child. Had they been our children, we would have tried to make them happy by taking them to cinema halls, buying them chocolates or pizzas.
 
These three types of mentality are not very healthy. We need a healthy mentality to consider how to make children our friends, how to treat them with respect and dignity.
 
For changing this mentality, every section of the society from social and religious organizations to media, including social media, will have to play an important role.
 
But there is a clear lack of honest willpower on part of the government and politicians in our country.  We keep hearing rhetorical statements like children are our future, children are our assets etc.
The question is - are we spending enough on our children?
 
Around 41 per cent of our population consists of children below the age of 18. But we are spending less than 4 per cent of GDP on children's health and education. Obviously there is a big contradiction in what we say and what we are spending on our children. It also requires a political initiative.