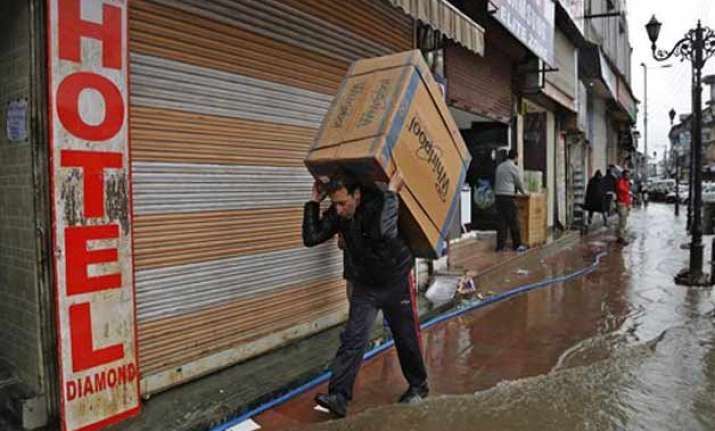 New Delhi: People in Srinagar are still not expected to get some relief from heavy rains and severe storms. The water level in Jhelum is still above the danger mark and this adds more to the fear.
The Meteorological Department has forecast more rain, with heavy showers expected till April 4th . Any breach in one of the embankments of the river can submerge the city, fuelling fears of a repeat of the September 2014 deluge.
Kashmir has been reeling under incessant rains for the past several hours and the landslide had buried the four houses along with their inmates. According to the police officials, six people including a child have died while 10 others are believed to be trapped in the debris after a landslide brought down four houses in central Kashmir's Budgam district on Monday.
People from low-lying areas and those living around river embankments are being shifted to safer places and shopkeepers in Lalchowk have vacated their shops..
Unlike the last time, the state administration is visible on the ground and several minor breaches in the embankments were plugged on Monday. Water was also drained out from city streets. Chief Minister Mufti Mohammad Sayeed visited Lalchowk, the main business centre of the valley.
The Jammu-Srinagar highway is also blocked due to the landslide. Army has launched relief and rescue operations in the region.
However the rain has stopped since 6 am in the morning and the water level has also come down in both Chenab and Tavi river. Jhelum, however, is still flowing above the danger mark.