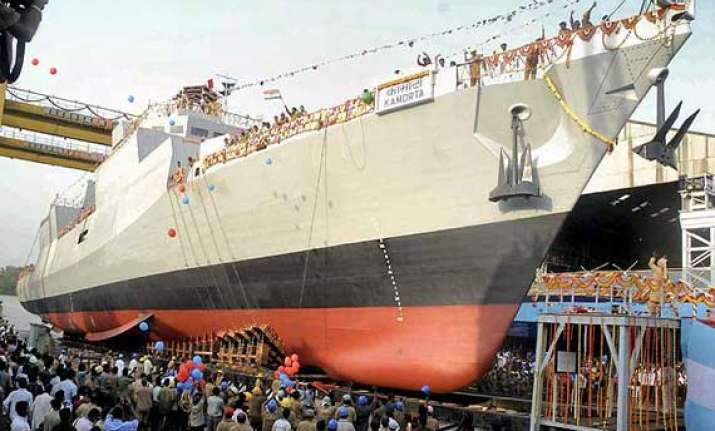 New Delhi: INS Kamorta, the first in series of anti-submarine corvettes indigenously built by Kolkata based Garden Reach Shipbuilders & Engineers Ltd. (GRSE), was handed over to Indian Navy here on Saturday.
The super sophisticated warship, the first in its class of four corvettes being built by GRSE for the Navy was built with indigenously developed steel produced by SAIL's Bhilai Steel Plant.
According to the GRSE , the significance of the warship is that it is the "first Indian Naval warship ever built in the country with almost 90 per cent of indigenous content."
The warship is being built with indigenously developed special grade high-tensile (DMR249A) steel produced by SAIL (Steel Authority of India), GRSE officials said.
"The hull of the ship encompasses the bulk of sensors and weapon systems that are also indigenously manufactured by various Indian Industries," the release said. Experts at the GRSE also pointed out that the corvette has a significant edge over existing platforms of other warships as it has a "rail-less" helicopter traversing system. It also has foldable hangar door.
Work on the warship started in 2006.
The handing over of the warship marks "fruition of a significant project in India's pursuit for self-reliance in indigenous warship building."
The project, driven by the Navy's Directorate of Indigenisation, has been delayed by two years with a cost overrun from the originally estimated INR28 billion (US$470 million) to INR70 billion (US$1 billion), primarily to meet this goal.