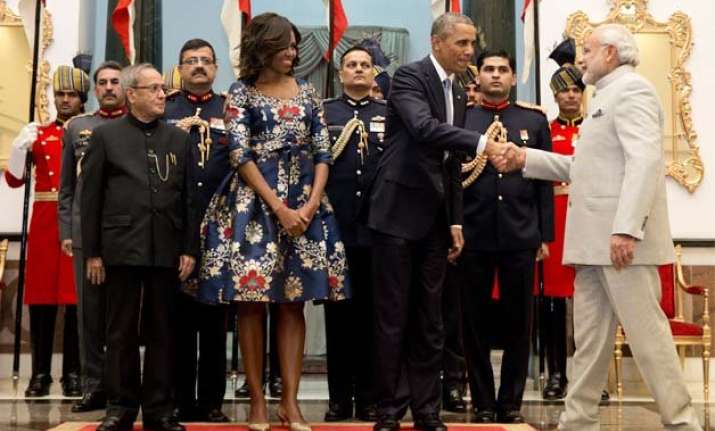 New Delhi: After several years of negotiations, India-US Nuclear deal logjam has been resolved. The deal was signed by Dr Manmohan Singh led government in 2005 with a Nuclear Suppliers Group waiver in 2008. But since then it has been in abeyance.
Both PM Modi and visiting US President Barack Obama announced that the "breakthrough" had been arrived at in the civil nuclear deal - which ended decades of India's nuclear isolation because of its refusal to sign the Nuclear Nonproliferation Treaty (NPT) - during the joint press interaction after a marathon over three-hour talks at the Hyderabad House.
For couple of years the deal has been stuck on the fact that the US insisted on "nationality" tracking of fuel and equipment to make sure it stays in the civilian sector and not cross over into India's strategic programme.
India has opposed it on grounds of sovereignty. India has committed to more intrusive verification by International Atomic Energy Agency (IAEA) by signing the Additional Protocol.
India provides all its information to IAEA and has offered to provide these to US. Till now, America had disagreed. But yesterday the US stepped off the bench to allow the nuclear deal to be done.
Prime Minister Modi expressed his pleasure on the bilateral agreement. In his speech he said, "I am pleased that six years after we signed our bilateral agreement, we are moving towards commercial cooperation, consistent with our law, our international legal obligations, and technical and commercial viability."
US President himself called it a breakthrough of understanding. He said that the two leaders had agreed to "advance our civil nuclear cooperation and we are committed to moving toward full implementation".
"It is an important step and shows us how we can work together to elevate our relationship" he said.
After the deal was signed, Foreign Secretary Sujatha Singh brief in press.
She said, "The deal is done... We have broken the logjam of the past few years".
She acknowledged that the "political leadership played key role" in pushing forward the agreement.
She also said both leaders were committed to work jointly for India's entry to the four multilateral export controls regimes - the Nuclear Suppliers Group, the Missile Technology Control Regime (MTCR), the Australia Group, and the Wassenaar Arrangement.
She said Obama "supports an early decision on India's entry into all four regimes".
Apart from other aspects of benefits of this remarkable 'breakthrough', this deal will also allow India to make emission commitments in Paris this year.