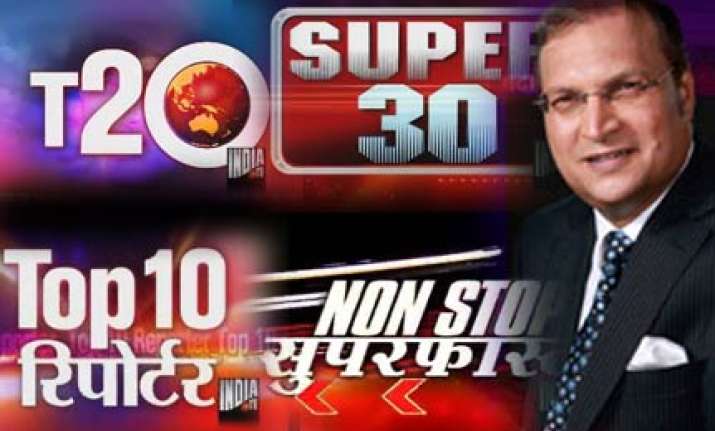 Living up to Rajat Sharma's promise to viewers and advertisers, India TV has zoomed to become No. 1 among all news channels in India  not only in Week 34, but for the past four weeks among CS 15+ across Hindi-speaking markets, according to latest TAM ratings.   
For the past one month, India TV has been consistently beating Aaj Tak  to No.2 position (Wk 31 and 34)  and No. 3 position (Wk 30 and 33), even as India TV's  news programmes now rule the roost among the Top 20 programmes in Hindi news genre, a study of TAM ratings reveal. 
During Week 34, all the 10 India TV programmes out of the Top 20 were news-centric, like  Non-Stop Superfast, Super Special, Breaking News, 5 Minute 25 Khabrein and T20. Most of these were rapid-fire news bulletins filled with credible news content, which only India TV has been able to deliver.  
Compared to these,  5 out of 6 Aaj Tak programmes in Top 20 during Week 34 were related to Saas-Bahu serials and cricket, while, all the 4 Star News programmes in Top 20 were Saas-Bahu-centric, TAM ratings reveal.  
Another study of Week 33 TAM ratings also reveals,  that all the nine India TV programmes in Top 20 of Hindi news genre were news-centric, like, 5 Minute 25 Khabrein, Breaking News, Special Report, Non-Stop Superfast, Mahabharat (a recap of India's Partition story).   
On the other hand,  five out of the seven Star News programmes in Top 20  during Week 33 were Saas-Bahu-centric, whereas two out of 3 Aaj Tak programmes were based on Saas-Bahu serials and Bollywood.   
"The latest TAM ratings prove that the Hindi news channel viewers have now become discerning and there is a clear shift in their perception about news channels. India TV with its tagline 'Aap Ki Awaaz' shall continue to give its best - fast, credible news to the viewer who has come to trust the India TV brand", says Rajat Sharma, chairman and editor-in-chief .   
Another good news for India TV viewers and advertisers:   
India TV will switch over to the latest generation MPEG4 technology from September 1. India TV is among a handful of channels in India who have opted for this cutting-edge technology to give better digital visuals to the viewers.  
"We promise to give our viewers the best -- the best in fast, credible content, and the best in new generation technology. On reaching the summit, we can say, we are here to stay", says Ritu Dhawan, managing director and CEO, India TV.
About Mr Rajat Sharma and Independent News Service Private Limited (INS):   
Mr Rajat Sharma is Chairman of Independent News Service (INS) and Editor-in-Chief of India TV. INS was co-founded by Mr Sharma and Ms Ritu Dhawan in 1998. Mr Sharma edited important publications before entering television in 1992 with the iconic 'Aap Ki Adalat' and India's first private news bulletin.  
With 20 years of work behind her, Ms Dhawan is one of India's senior most television producers.  
INS launched India TV in August 2004. Today it has a talent pool of 500+ personnel across India with all state bureaus connected to its Noida newsroom by MB data circuits.