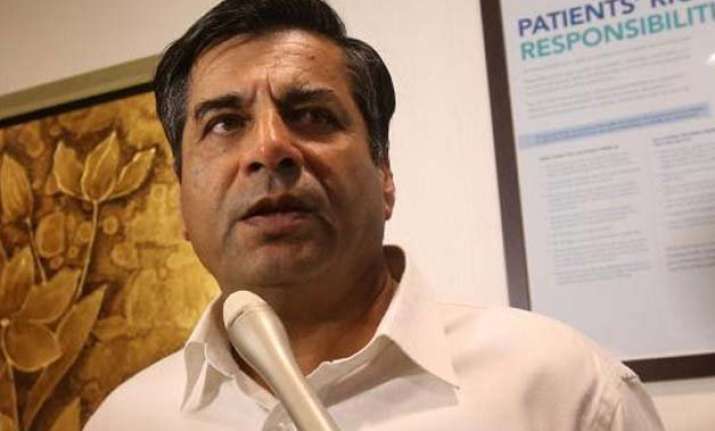 Peshawar: India is not worried over the USD 46-billion economic corridors between Pakistan and China as an economically strong Pakistan would bring regional stability, India's envoy said today, underlining the need to remove misperception and restore mutual trust between the two nations.
Indian High Commissioner T C A Raghavan, addressing a meeting of Khyber Pakhtunkhwa Chamber of Commerce and Industry (KPCCI) here, said India also has no problem over the growing relations between Pakistan-Iran-China and Afghanistan.
"There is a need to remove mis-perception between Pakistan and India for the restoration of mutual trust," he said.
This is the first visit by any Indian High Commissioner to KPCCI during last nine years after Shivshankar Menon visited the KPCCI twice in 2006.
"India has no worry over the construction of Pakistan-China Economic Corridor as an economically strong Pakistan would bring stability in the region," he said.
The 3,000-km corridor linking China's far-western region to Pakistan's south-western Gwadar port on the Arabian Sea through Pakistan-occupied Kashmir (PoK) is massive project of road, rail, energy schemes, pipelines and investment parks.
He acknowledged that Pakistan has very good relations with China; however, he said India-China relations are stable too.
Trade volume between India-China reached to USD 70 billion marks and India also bought power generation equipment from China.
Emphasising on increasing volume of bilateral trade between India and Pakistan, he said the goal can be achieved "if we treat each other as a normal trade partner."
"India and Pakistan should behave like normal trading partners. Peace and security in Pakistan is important for economic growth of both Pakistan as well as India alike.  "Fears that enhanced trade with India would result in Indian goods flooding Pakistani market, rendering local traders out of business, is misplaced," he said.
He said trade between India and China was equal as was between India and Pakistan in the year 2000, ranging between USD 100 million dollars.
However now, he said, after passage of 14 years, the trade volume between India and China has jumped to USD 65 to 70 billion while trade between India and Pakistan is around USD 2.5 to 2.9 billion.
He said boost in trade between India and China is a good example as how barriers were removed and both the countries focused on trade and commercial activities in the larger interest of their people.
Raghavan was of the opinion that bilateral trade between two countries could not flourish "if we go into minute observation of trade imbalance" as it is a common factor and do happen which should be ignored.
Even in trade between China and India, the former is benefiting more because of import of power equipment by the later, he added.
He said India has been following a liberalised business visa policy, with provision to issue long-term multiple-entry visa to businessmen involved in trade with India on a regular basis.
"Our efforts are also focussed on implementing the road map agreed upon by the two countries in September 2012 for bilateral trade promotion. In this regard, the grant of MFN status by Pakistan to India is awaited," he said.
Raghvan also proposed for developing more trade routes between India and Pakistan apart from Wagah and Attari. In this connection he suggested for starting of freight train from Monabao in Sind (Pakistan).
"We have to concentrate on increasing more connectivity and infrastructure development between South and West Asia on the pattern of China which has increased its connectivity in South East Asia," he said.
He said with a view to promote trade from Afghanistan, India on January 20 announced to allow Afghan trucks to go beyond Wagha to Attari.
"We are given to understand that Pakistan government, following the 5th round of APTTA meeting in January this year gave a commitment permitting Afghan trucks to reach Wagha. It would be in the interest of Afghanistan, Pakistan and India to further extend this facility to reach upto Attari, the way Pakistani trucks enter Attari," he said.  
He said India is willing to be associated with the extended APTTA linking it to Tajikistan, i.e. PATTTA (Pakistan, Afghanistan, Tajikistan Trade and Transit Agreement).
Opening of this transit route linking Central Asian countries through Afghanistan and Pakistan with India and possibly beyond would go a long way in enhancing intra-SAARC trade, he said.
This, along with SAARC Motor Vehicles Agreement (MVA), would usher in significant improvement in trade environment in the sub-continent through enhanced passenger movement, creation of more trade, service and employment opportunities within Pakistan, he said.
He said 138 items which Pakistani trucks can bring from Attari into Pakistan can also be extended to Afghan trucks.
"To this end, we believe that there is a clause of National Treatment under APTTA granting all services and privileges to Afghan truck carriers also," he said.
He said Indian High Commission is holding meeting on monthly basis with representatives of different chambers of Pakistan to resolve any issue regarding delay in issuance of visas.
He said Indian Embassy in Islamabad would issue visas to the business community of KPK on priority basis on the recommendations of the KPK Chamber of Commerce and Industry.