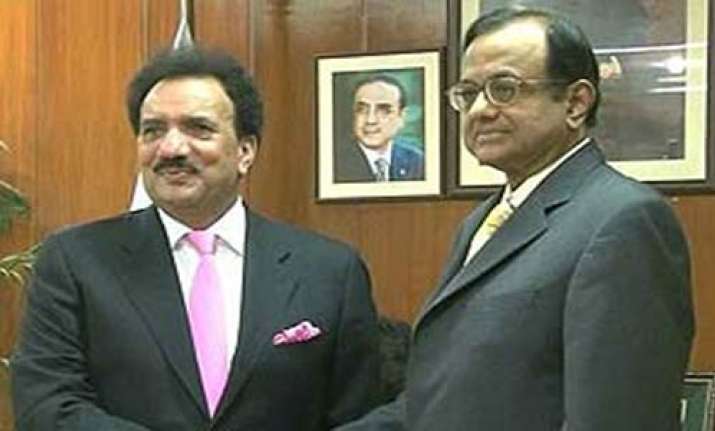 Thimphu, July 24 : India has pressed Pakistan for the voice samples of the seven accused in the 26/11 Mumbai terror attacks and sought speedy trial of the case in that country to bring to justice the perpetrators of the strikes. 

Home Minister P Chidambaram made the request to his Pakistani counterpart Rehman Malik when they met in Thimpu on Saturday night on the sidelines of the SAARC Interior Ministers meeting.

"The Indian Home Minister referred to the requests made by the Home Ministry some of which were pending with Pakistan since their last meeting," a joint statement issued this morning said.Though the statement did not specify what the requests were, it said they related to some of those pending with the Pakistani Interior Ministry.

This was apparently in reference to India's request for voice samples of the seven accused Pakistan has arrested in connection with the 26/11 attacks, including LeT's operations commander Zakiur Rehman Lakhvi.

India has been demanding voice samples of the accused who were giving instructions to the ten terrorists during the November, 2008 attack.Malik also "sought an early response" to some of the queries by his Ministry in the same context. "The meeting was held in a cordial atmosphere. The two ministers discussed matters of mutual interest and concerns," the statement said.

Malik said the Pakistan Interior Ministry was working for an early visit of a Judicial Commission from Pakistan.

The visit is primarily aimed at recording statement of the magistrate, R V Sawant Waghule, who had recorded the confession of Ajmal Kasab, the lone terrorist captured alive during the Mumbai attack.

The joint statement said Malik "expressed that the visit will take place at an early date. In response, the Home Minister affirmed that India is willing to receive the visit."

India will also send a team to Pakistan in connection with 26/11 Mumbai terror attack investigations as agreed during the Home Secretary-level talks in March in New Delhi. The two ministers agreed top ensure that their ministries will remain in contact with each other on this and other matters, the statement said.

Malik had last night said the meeting was "very good" and held in a very cordial atmosphere.Issues of mutual interests were discussed, said Malik, who on Friday described Chidambaram as his "elder brother".

At the SAARC meet, Chidambaram said terrorism was the "most significant existential challenge" to peace and security in South Asia and it was the single largest hindrance to socio-economic development in the region.