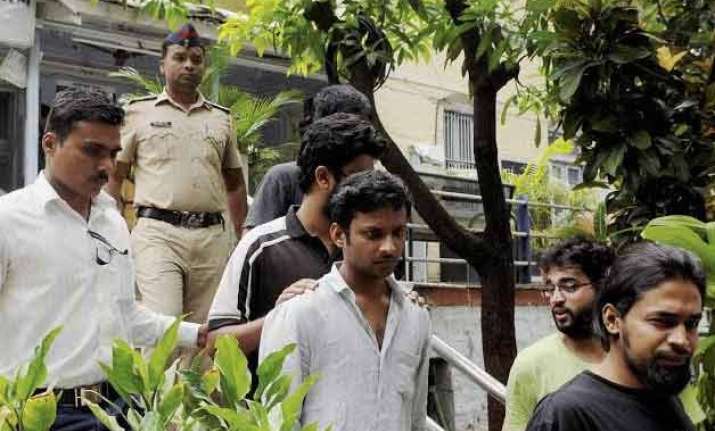 Pune/New Delhi:  Amid mounting tensions on the FTII campus, five students were arrested in a midnight swoop for rioting after they confined the premier institute's director to his chamber, prompting the government to form a team of senior I&B department officials to resolve the 70-day-old crisis.
The arrested students were later enlarged on bail by a Pune court.
The arrest of the students for allegedly vandalising the office of institute's director Devendra Patharbe drew sharp response from Congress vice president Rahul Gandhi and Delhi Chief Minister Arvind Kejriwal, besides the film fraternity.
"Protesting #FTII students arrested in #midnightcrackdown.
Our students are not criminals Modiji. Silence. Suspend. Arrest: ModiMantra for AcheDin," Rahul said in a tweet.
Kejriwal expressed "shock" over the police action and alleged the institution was being "systemically destroyed" as he offered space to the students in Delhi to carry out their academic activity.
"My offer to FTII students -- Delhi govt can provide u temp space in Del. Run ur classes here till central govt agrees.
 If finally, central govt doesn't agree, we'll convert this place into full fledged institute n students can continue studying here only," the Chief Minister said in a series of tweets.
As the outrage over the midnight crackdown on the students mounted, the government constituted a three-member team headed by the Registrar of Newspapers for India S M Khan to assess the ground situation at the Film and Television Institute of India.
"The team headed by Khan and comprising two more I&B Ministry officials will visit Pune tomorrow and give its report on the situation there," official sources said.
Patharbe, who claimed he was still in a state of "mental shock" after Monday's incident, trashed accusations that he was forced to file a complaint under pressure from Information and Broadcasting Ministry.
"FIRs have been filed against 15 students out of which five have been arrested," DCP T Tushar Doshi told PTI.
 Those arrested included the FTII Students' Association (FSA) representative Vikas Urs. They have been booked under various sections of IPC relating to unlawful assembly, criminal intimidation and rioting for vandalising Patharbe's office.
There were conflicting versions about the incident, with Pathrabe claiming the students vandalised his office while a student said he had a video that purportedly showed a policeman in plainclothes breaking the window panes of the director's office.
Patharbe said he was "tortured, threatened, physically pushed around and subjected to disrespectful and insulting behaviour" by about 40 odd students.
The students were reportedly agitated over Pathrabe's decision to go ahead with the assessment of the incomplete diploma film projects of the 2008 batch.
The students are on the warpath with Modi government, demanding revocation of the appointment of BJP member and TV actor Gajendra Chauhan as the Chairman of the prestigious institute on the ground that he does not have the credentials.