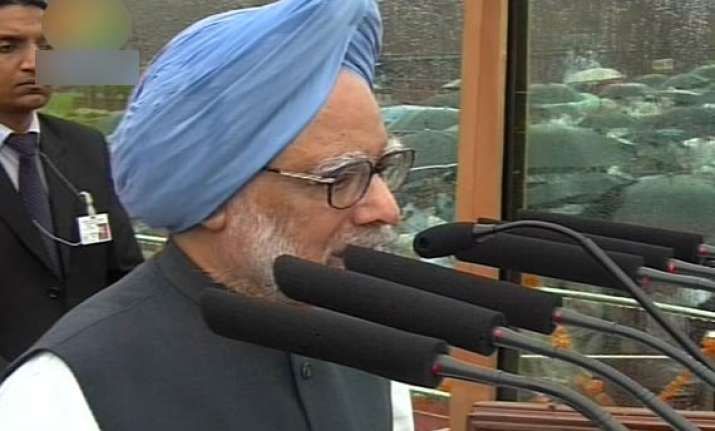 New Delhi, Aug 15 :  With government facing attack over multiple scams, Prime Minister Manmohan Singh on Monday promised a strong Lokpal to end corruption in high places and asserted that hunger strikes will not help address the problem, in an apparent reference to Anna Hazare's agitation.
 
Addressing the nation for the eighth consecutive year on the occasion of Independence Day,  Singh said no government has a "magic wand" to deal with the problem of corruption which needs to be tackled on many fronts and asked all political parties to "stand shoulder to shoulder" in this fight.
 
A day before Anna Hazare was to embark on an indefinite fast demanding a strong Lokpal, he made it clear that only Parliament can decide what type of Lokpal legislation can be enacted.

"I am aware of the differences of opinion on some aspects of the bill. Those who don't agree with this bill can put forward their views to Parliament, political parties and even the press. However, I also believe they should not resort to hunger strikes and fasts-unto-death," Singh said.

Acknowledging that corruption is a big obstacle in national transformation, he said the menace should be discussed in a manner that should not create an atmosphere in which country's progress comes into question.
 
He also admitted that funds meant for welfare of common man end up in the pockets of government officials.

Speaking from a bullet-proof enclosure amid rains, the Prime Minister touched on a variety of subjects including the sensitive land acquisition issue, naxalism, terrorism, economy and inflation.

Unlike in the past, foreign policy issues found no mention in his 40-minute speech on the 65th Independence Day from the historic 17th century Mughal monument of Red Fort.

Singh, who devoted a major part of the speech on corruption, admitted the scourge was a "big obstacle" in the way of transformation of the country as a major economic power globally.

"In the last few months many instances of corruption have come to light. In some cases, functionaries of the Central government face allegations of corruption. In other cases, it is the functionaries of various State governments," he said.

With a number of corruption cases pending before different courts, the Prime Minister chose not to comment on specific scams like 2G, Commonwealth Games and Adarsh.
"We are taking the strictest possible action in cases of corruption that have surfaced. I will say nothing more on this subject as these cases are sub-judice," he said.

Singh, whose government has been under attack cautioned against creating an atmosphere in which the country's progress comes into question. "Any debate on these matters should reflect the confidence that we can overcome these challenges," he said.
 
"Corruption manifests itself in many forms. In some instances, funds meant for schemes for the welfare of the common man end up in the pocket of government officials. In some other instances government discretion is used to favour a selected few.

"There are also cases where government contracts are wrongfully awarded to the wrong people," he said, asserting that the government cannot let such activities continue unchecked.
 
Noting that the government was keen on a "strong" Lokpal to prevent corruption in high places, Dr. Singh said, "we have recently introduced a Bill in Parliament to achieve this. Now only Parliament can decide what type of Lokpal legislation should be enacted."

The Prime Minister said he believed that there was "no single big step" which we can take to eradicate corruption.

"In fact, we will have to act simultaneously on many fronts," he said.

Sending out a strong message to those indulging in scams, he said, "everyone should know that quick action will be taken against the corrupt and punishment meted out to them."

At the same time,. Singh said, "if our system delivers justice in an effective manner, government officials would think twice before committing a wrong act out of greed or under political pressure."

On Team Anna's demand for bringing higher judiciary in the purview of Lokpal, he said it was "not appropriate" as "we believe that any such provision would go against the independence of the judiciary".

He, however, said there was a need for a "framework in which the judiciary becomes more accountable. It is with this aim that we have introduced the Judicial Accountability Bill in Parliament."

Singh expressed confidence that this Bill will be passed soon.

But he did not touch upon the question of whether the Prime Minister should come under Lokpal, a consistent demand by Team Anna and some political parties.   PTI