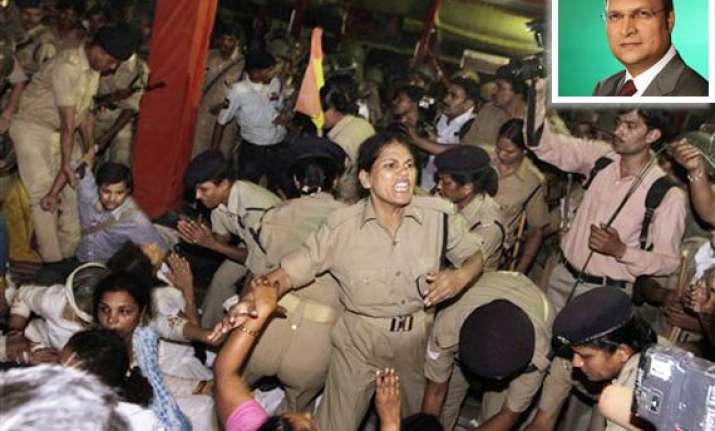 Congress wounded by Anna's misguided missiles had a perfect plan to counter the attack. The crafty leaders had  worked out a strategy to use Swami Ramdev as a 'Drone' missile to hit target 'Anna', but the missile backfired. Now, Congress is running for cover both from Anna Hazare and Swami Ramdev. How did the Congress end up in this mess. Let me give you the inside story.


First, the background: It was Swami Ramdev who had roped in Anna Hazare to join his anti-corruption crusade. It was Ramdev's idea to sit on dharna at Jantar Mantar in the first week of April, but one of Anna's men hijacked his idea. Anna announced his fast and dharna at Jantar Mantar on a date when Ramdev was stuck in Haridwar.

An angry Ramdev initially decided to keep away from Anna's show at Jantar Mantar. But all of a sudden, Anna became a hit. Support from the twitterati and the internet bloggers along with several under-employed film stars took both Swami Ramdev and Congress by surprise.




It was then that Swami Ramdev changed his mind. He landed at Jantar Mantar ostensibly to lend support to Hazare's fast. Swami Ramdev gave an energetic speech at Jantar Mantar which mesmerized the crowds present there, as also the supporters watching it live on television.

By now the so called civil society had painted an unknown Anna as a modern Gandhi. The Congress, under pressure from public reaction, conceded to Anna's demands. This victory for Anna, perhaps, left Ramdev wondering whether Anna had overtaken him as the man who would lead the new-age war against corruption. After all,  it was Ramdev who had visited over 600 districts and addressed huge gatherings to muster public opinion against corruption. Ramdev had a mass base and a nationwide network of his own. Anna had none. How could Ramdev allow Anna to hijack his crusade?

Ramdev decided to go in for a show of strength in New Delhi. He  planned to bring one lakh supporters to Ramlila Maidan, compared to Anna's one thousand at Jantar Mantar. If Anna could become a hero by forcing the Government on the Jan Lok Pal Bill issue, Ramdev thought he could force the government to agree to a law on a more popular issue, that of 'black money'.

Embarrassed over its abject surrender to Anna on the Lok Pal bill issue, the Congress now smelt an opportunity here.

Ramdev was already friendly with a number of senior Congress leaders. Shiela Dixit, Bhupender Singh Hooda, Ghulam Nabi Azad, Vilas Rao Deshmukh, Kamal Nath and many others had been blessed at his yoga camps. Congress leaders saw Ramdev as a tool to fix Anna. That is the reason why Congress leaders whooped with joy when Ramdev said  he did not support Anna's demand for bringing the Prime Minister under the purview of Lok Pal. The Congress leaders thought that they had found an answer to Anna in Ramdev.  Far way back in 1975, the Congress leaders had similarly  pitched  Acharya Vinoba Bhave as a 'sarkari sant' against Jaya Prakash Narayan. Bhave was known for praising Emergency as an 'Anushashan Parva' (era of discipline).




Subodh Kant Sahay, who had a personal equation with Ramdev, was asked to cut short his U.S. visit. Kapil Sibal, the canny lawyer was asked to cancel his visit to London. Sudhir Chandra, then Chief of Central Board of Direct Taxes, was already in touch with Ramdev on his demands. An over-enthusiastic Government had discovered the magic formula to blunt, if not bury Anna's movement. Congress believed that by accepting Ramdev's demands, it will make him  into a bigger hero. The gameplan was to finally  draw Ramdev and his mass base towards Congress at least for the next general election.

It  was a perfect plan. That was the reason why the veteran Congressman Pranab Mukherjee along with three other ministers and the Cabinet Secretary rushed to Delhi  airport to woo Ramdev. The idea behind this was to broadly accept Ramdev's demands, persuade him to announce that  the Government was sincere in bringing back black money and call off his dharna at Ramlila Maidan.

Ramdev was ready to play along but was concerned over the reaction from his support base. He did not want to be branded a 'Sarkari Sant'. He insisted that he would go ahead with his dharna at Ramlila Maidan at least  for few days. Ramdev's idea was to call it off after his show of strength, but the government did not trust Ramdev on this issue.

The government had doubts that  Ramdev might change his mind after  one lakh supporters of his gathered at Ramlila Maidan. Efforts to persuade Ramdev to call off his fast unto death continued the next day. A compromise formula was worked out: that eighty per cent of Ramdev's demands would be met, the government agreed to give this in writing,  but  on the condition that he will also give an assurance in writing that he would call off his satyagraha at the end of the first day.

Ramdev was reluctant to sign the deal. But the tactful Sibbal made his Man Friday Acharya Balkishan to hand-write a letter to this effect.  The acharya was told that this was meant only for the eyes of the Prime Minister.




 An inexperienced Ramdev trusted the political leaders he was dealing with. Keeping his word he ensured that none of the BJP leaders were seen in Ramlila Maidan. He categorically told RSS to keep off his satyagraha. Ramdev even collected a variety of Muslim leaders on stage. He refrained from making any adverse comment on Sonia Gandhi or Manmohan Singh. During the day he repeated several times that his movement was not  aimed against "any Government or any Party".

But  this was not enough to convince the wary Congress leaders. They were under attack in the media and inside their own party for going en masse to the airport to meet Ramdev. They did not want yet another Anna incident where the government might be seen submitting to the pressure, this time from the  "Sadhu Society".

Ramdev was given a deadline of  June 4  evening to call off  his dharna. But with swelling crowds at the Ramlila Maidan and a government on its knees, Ramdev was enjoying his moments of glory. He did not want to be seen as someone who had given in easily. He wanted to continue this for one more day. This is where the complete mistrust between him and the government surfaced.
Kapil Sibal was convinced that Ramdev was backing out from his commitment at the behest of RSS. He decided to 'expose the Baba' by releasing Acharya Balkishan's letter to the media, suggesting that there was a 'deal' between Ramdev and the government.




Sibal threatened that if Ramdev went back on his word, the government would teach him a lesson. Kapil's now famous words "if we know how to accommodate, we also know how to rein in" turned out to be the breaking point. Angry hardliners in Congress believed that the Baba had cheated on them. They assumed that RSS was behind this. On the other hand, the Baba was furious. He felt that by revealing Acharya's letter, the government had backstabbed him. Ramdev felt that the government wanted to discredit him.



After almost announcing victory before the crowds present at Ramlila Maidan, Ramdev suddenly changed his tune. He gave a call for more of his supporters to join him at Ramlila Maidan. This made the Congress leaders nervous. With more supporters coming in the next day, they thought, it would be almost impossible to evict the Baba from Ramlila Maidan. The government then decided to move in a force of 5000 policemen.

Rest is history: innocent, peaceful and hungry people sleeping in Ramlila Maidan were subjected to brutal lathi charge and tear gas by police. The Baba got the sympathy and the Government got the flak.

Today, the mistrust between Ramdev and the Congress leadership is  deeper. The Congress wanted to fix Anna by using Ramdev as a weapon. It ended up bringing Anna and Ramdev together. The Congress has been left with fewer friends. Now, it has to fight both Anna and Ramdev. They have to look for another tool, and a new game plan.