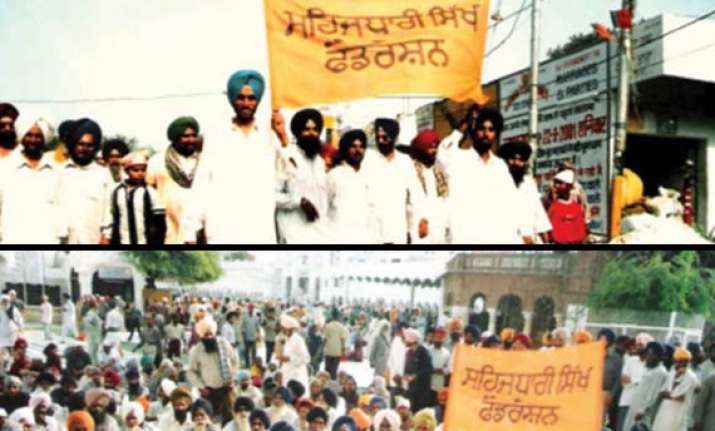 Chandigarh, Dec 20: In a major setback to the newly elected general house of SGPC, the Punjab and Haryana High Court today quashed the Centre's notification debarring Sehajdharis (non baptised Sikhs) from voting in the Sikh body's polls.

Accepting the plea moved by Sehajdhari Sikh Federation (SSF), challenging the Centre's October 8, 2003 notification depriving Sehajdharis of their voting rights in SGPC polls, the court held that the notification is "bad" under the law as it did not fall under the purview of Section 72 of Punjab Re-organisation Act.

The bench, comprising justices Surya Kant, M Jeyapaul and M M S Bedi observed in their 128 page verdict that the Centre's notification was tampering with the essential and basic character of Sikh Gurudwara Act of 1925. 

On September 18, elections to the general house of the Shiromani Gurdwara Prabandhak Committee(SGPC), known as mini-parliament of Sikhs, were held.

Now it is for the Election Commission to decide whether it goes for a fresh SGPC polls or continues with the body which got elected in 2005.

The quashing of Centre's notification will give the Sehajdharis voting rights in the SGPC polls, SSF chief Paramjeet Singh Ranu said.

Paramjeet claimed that the entire process of SGPC polls held recently had no meaning now as the SSF had already moved the court against the Centre's notification prior the polls for the religious body were held. The verdict will now affect the fate of recently held SGPC polls, he said.

The petitioners had mainly challenged the Centre's notification "whereby Sehajdharis Sikhs are not being considered as Sikhs in view of the impugned amendment in Section 49 and Section 92 of the Gurudwara Act."

The petitioner had submitted that the original Act declared Sehajdhari Sikhs as qualified electors for the SGPC elections and the Apex court had in numerous judgements held that the state cannot regulate the definition of religion. 

It was argued by the petitioner that state authorities cannot fetter the definition of Sikhs in general and Sehajdhari Sikhs in particular when religion is not within the bounds of any kind of legislation.

Earlier, the High court on October 19 had reserved its verdict.