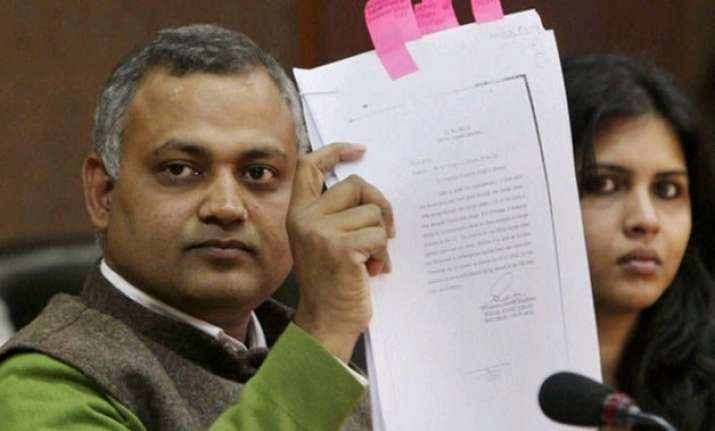 New Delhi: The Delhi High Court today dismissed the plea of former Delhi Law Minister and Aam Aadmi Party (AAP) leader Somnath Bharti seeking video recording of the proceedings of the case pertaining to his purported midnight raid in Khirki extension being tried at National Human Right Commission (NHRC).
"There is no merit in the prayers of the petitioner (Somnath Bharti). The petition stands  dismissed," a bench of justices S Murlidhar and Manmohan Singh said.  During the hearing, advocate Ajay Marwah, appearing for Bharti, said that the court should direct NHRC to allow video recording of the proceedings going in the case, including the evidences that will be tendered by the witnesses.  
"Holding camera proceedings is not something alien to the judicial system and the courts have allowed the proceedings to be recorded in a number of cases in the interest of justice and a fair trial in highly contentious issues," he said.  He also contended that in its order on March 3, 2015, NHRC had rejected the request of Bharti for summoning of evidences without giving any meaningful remedy and claimed that it was not a speaking order as directed by the court.
He also requested the court to pass an order that proceedings at NHRC to tendering of evidence is allowed by the witnesses and Bharti and to conduct open court proceedings.
"Bharti is an MLA of Delhi assembly and that the allegations in the false case against him has hampered his reputation before the public at large. It would be in the interest of justice if public is allowed to know about the proceedings and his innocence," Bharti's counsel said.
Bharti's counsel also sought a direction from the court to Judge in-charge of the administrative functions of Saket district courts to preserve and supply the CCTV footage of January 18, 2014 of the cameras installed immediately outside court room 213, 214 and the typing pool area.
"It's over a year and they (Saket court authorities) do not preserve the CCTV footage for that long,"  the bench observed adding that there is nothing wrong in the NHRC order.  On December 26, 2014, the court had set aside an NHRC order holding Bharti guilty of "racial prejudice and unlawful acts" against 12 African women during his controversial midnight raid in Khirki extension in South Delhi.
The court had directed NHRC to hear the matter afresh, allowed Bharti to lead any evidence and asked the Delhi Police Commissioner and city government to ensure they are represented before the Commission.
On the intervening night of January 15-16, Bharti and his supporters had allegedly forcibly detained and threatened some African women during a confrontation with police at Khirki extension here over inaction against a suspected prostitution ring.