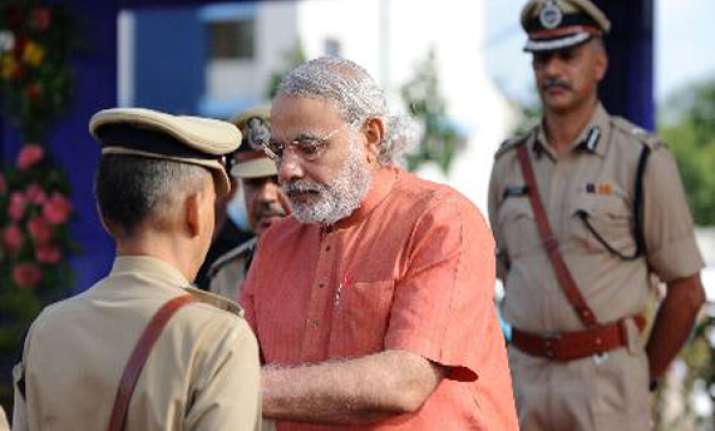 Ahmedabad: Gujarat police yesterday criticised its Bihar counterpart, alleging serious lapses in security measures for Chief Minister Narendra Modi's rally in Patna, saying that had the Bihar administration heeded its request, perhaps the situation could have been avoided.
Seven blasts rocked Gandhi Maidan, the venue of Modi's rally and surrounding areas, leading to the death of six people just before the event on Sunday in Patna.
"Rehearsals before the event was not carried out, except for the route rehearsal," in-charge Gujarat DGP Pramod Kumar office said in a statement issued here tonight.
"Anti-sabotage checking, which is mandatory for public meetings was not conducted properly. Routine security drills such as access control, checking and frisking people attending the rally as well as screening of baggage, were not conducted.
It is further reported that a large number of vehicles were parked inside the venue of the rally," the statement said.  
"Senior police officers from Gujarat had requested the Bihar police to conduct a joint Advance Security Liaison (ASL).
It was only after great persuasion that Bihar police officers agreed to join the ASL, which was conducted by SP (Patna City), Additional Director (IB) and SP (CM Security) Gujarat.
However, Bihar Police officers, for reasons best known to them, had refused to sign the ASL report and had not taken note of relevant issues mentioned therein," it said.  
The ADGP (Intelligence) Gujarat had sent a detailed communication to ADGP (Special Branch) Bihar about the threat faced by Modi from various terrorist organisations, it said.  
"The Bihar administration did not respond to this communication and never communicated about issues that may be foreseen in providing foolproof security for VIPs and the venue," the statement said.
The Gujarat police hoped that in future, the central government and its apparatus would impress upon states where such visits take place, to take security concerns seriously and protect the lives of people and VIPs, it said.
The statement comes after Bihar Chief Minister Nitish Kumar said that he had given instructions to his home department and police to provide maximum security for the BJP rally.