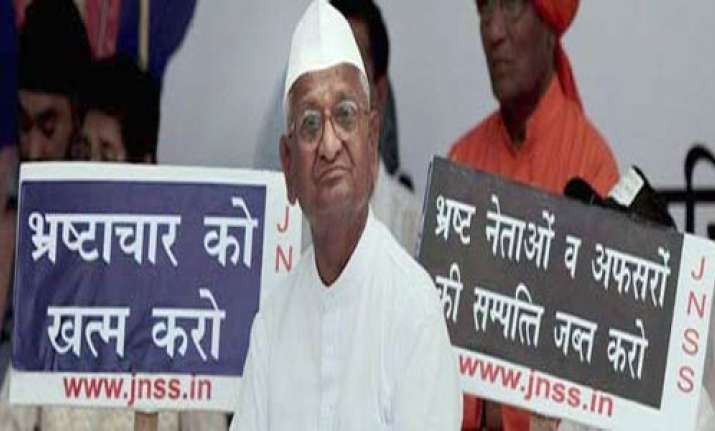 Ralegan Siddhi (Mah), Apr 7 :  When an Army jeep driver returned to this village after surviving strafing by enemy planes, being the driving force behind a mammoth anti-corruption campaign was not on his agenda. 
But 72-year old Kisan Baburao Hazare, famously known as Anna Hazare, into the third day of his fast unto death for a stronger anti-corruption law, has become the most visible face of the movement that is garnering growing support.  Hazare, who lives in a small room attached to the Yadavbaba temple in this village, has already tasted success, with Agriculture Minister Sharad Pawar quitting the Group of Ministers on corruption after the Gandhian called him corrupt. 

After pledging to serve society in his second lease of life, Hazare has over the last three decades brought Maharashtra's political establishment to its knees, leading to resignation of ministers in both Shiv Sena-BJP and Congress-NCP governments.

During his days in the Army in the 1960s as a truck driver, he spent a lot of time reading about Swami Vivekananda, Mahatma Gandhi and Acharya Vinoba Bhave.  Hazare returned to Ralegan Siddhi village in 1975, after seeking voluntary retirement from the Army and was faced with a village in the grip of drought, poverty, crimes and alcoholism.
He inspired villagers to join him in building canals and bunds to hold rainwater which increased irrigation possibilities in the village.

The only family members he has are two married sisters.  One lives in Mumbai and another in Sangamner in Ahmednagar district. His mother Laxmibai died in 2002.

After Mahatma Gandhi, Hazare is among those who have used hunger strike as a potent weapon. In 1995, Hazare's fast led to exit of two state Cabinet Ministers, labelled corrupt by the Gandhian and the Sena-BJP government was forced to drop them.

Hazare did not spare the Congress-NCP regime either and in 2003, went on hunger strike against four ministers, Sureshdada Jain, Nawab Malik, Vijaykumar Gavit and Padamsinh Patiln, alleging they indulged in massive corruption.

 He also initiated a campaign for a legislation on the right to information. Hazare's persistent attack on those corrupt also earned him foes. In 2009, two persons arrested for killing Congress leader Pawanraje Nimbalkar said there was a contract given out to kill the Magsaysay Award winner. 
However, there are also cases of foes-turned-friends as seen by Shiv Sena chief Bal Thackeray announcing his support for Hazare's hunger strike at Delhi. Not long ago, it was the same Thackeray who had taunted Hazare as 'Gandhi with a crooked face'.

In his message of support published in his party organ, Thackeray wrote: "I don't know how many creatures of corruption will die because of Anna Hazare's insecticide, but in the public interest,I extend my support to this movement." PTI