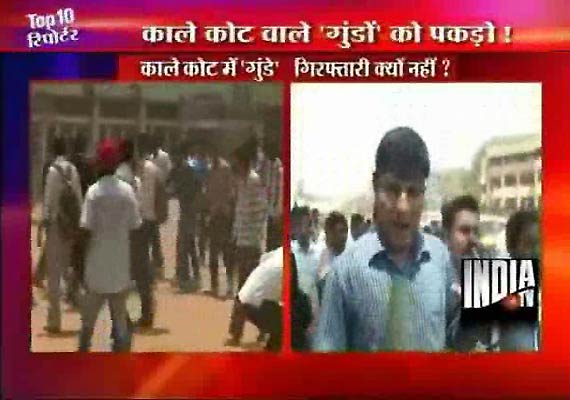 Bangalore, Mar 3: Facing heat from the media over its 'inaction', police today arrested four advocates in connection with attack on media personnel by a section of lawyers during the mayhem that rocked the city civil court.

The arrests came after the media in the state rejected the judicial probe into yesterday's attack as an "eyewash" and demanded that the guilty advocates be brought to book immediately.

Special police squads set up by the police nabbed advocates Ranganath, Somesh, Arun Naik and Santosh, Police Commissioner B G Jyoti Prakash Mirji told reporters here as media stepped up pressure meeting Governor H R Bhardwaj and Chief Minister D V Sadananda Gowda demanding action.

Mirji said 31 cases of rioting and assault had been registered in connection with the unprovoked attack on the journalists, OB vans and police that left at least 20 persons injured and evoked widespread condemnation.

Police also registered a complaint of assault and robbery filed by the driver of Karnataka High Court Judge K L Manjunath.

Driver, M S Jagadeeshaiah, said in his complaint that some advocates beat him when he came to the court complex to drop the Judge and robbed him of a gold chain and a cash of Rs 1,900.

Courts here remained closed today while prohibitory orders were in force around city civil court complex which witnessed violence when lawyers created ruckus before turning violent protesting presence of media persons to cover the appearance of former minister and mining baron Janardhan Reddy in the CBI court in connection with an illegal mining case.