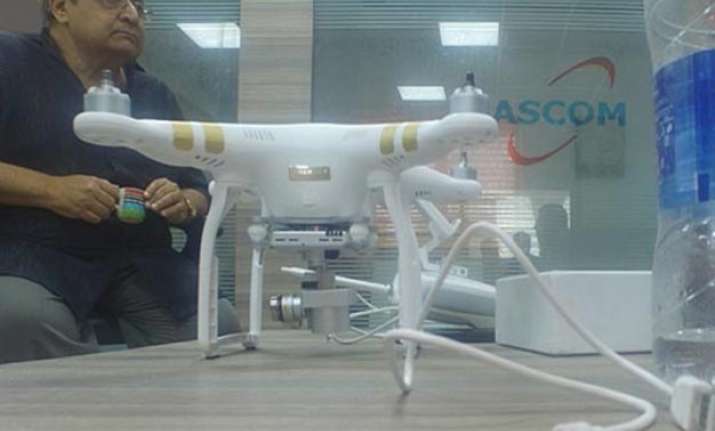 New Delhi: The Pakistan army on Monday released visuals purportedly retrieved from a spy drone shot down earlier this month near the Line of Control that it said proved the pilotless aircraft was launched for a spying mission from the Indian side.
"An Indian drone (Quadcopter) mission was flown on July 15, 2015, by India in which it intruded from Indian Occupied Kashmir(IOK) Jaurian Sector and was flying over Own Banchirian Sector (near Bhimber), when it was shot down by Pakistani troops," Pakistan's army media arm, Inter-Services Public Relations (ISPR) said in first ever detailed statement following the incident.
An image retrieved proves that after the purchase of this quadcopter it was taken inside M/S ASCOM office which is an Indian communication and Electronic Firm, the army claimed.
Another pre-flight picture indicates presence of an Indian soldier standing in the vicinity of quadcopter, it alleged.         
An image probably taken before test flight of the drone on its arrival in forward areas indicate company headquarters of the Indian Sector, the army said.       
An image taken by quadcopter immediately after flight from a post shows an Indian flag which proves that it started its flight from Indian post, it claimed.   
"The photos and videos were recovered from the internal memory" of the quadcopter drone and provided "irrefutable evidence that it was flown by Indian Army for reconnaissance inside Pakistan side of LoC," it stated.
India has already refuted the Pakistan's claim that the drone was launched from the Indian side of the Line of Control and said such a UAV was not in the inventory of the Indian military.
Chinese official media had also reported that the "spy" drone Pakistani army shot down along the LoC, claiming it belonged to Indian security forces, was made in China.  
The Pakistani army today also alleged that there was a "sudden spike both in terms of intensity, caliber escalation and air space violations by India" has been observed along LoC and the working boundary.            
"Since 9 June 2015, 35 ceasefire violations have been committed by Indian troops," it said.