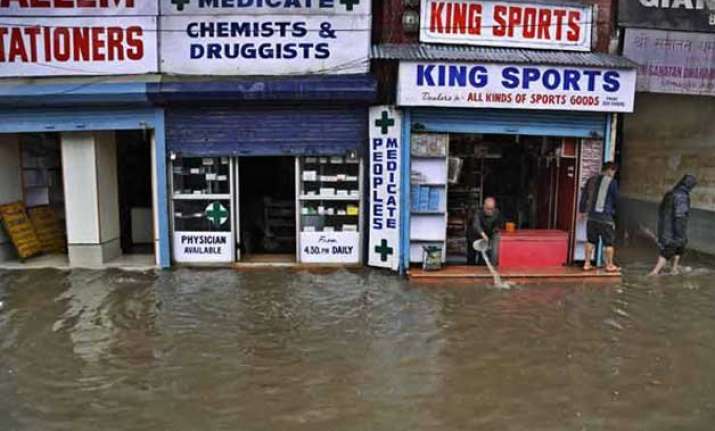 Srinagar: The water level in river Jhelum in Kashmir has risen as most parts of the Valley were lashed by incessant rains since yesterday. Met Deparment says weather will improve but administration asks people to be vigilant in low lying areas.
The water levels at two measuring points Sangam, in south Kashmir, and Ram Munshibagh here have crossed the "alarm" level and the present status at both the places was "orange", officials said.
The water level has risen almost seven feet during the day, they said.
"The water level at Sangam at 8 AM this morning was 12.9 feet, while at Ram Munshibagh it was 12.85 feet. However, the level at Sangam and Ram Munshibagh at 5 PM was 19.9 feet and 16.7 feet respectively," the officials said.
The alarm levels at Sangam and Ram Munshibagh are 18 feet and 16 feet, they said, adding, the flood declaration level at Sangam is 21 feet, while it is 18 feet at Ram Munshibagh.
The Valley received widespread rains since yesterday and the MeT department has said light rain or thundershowers may occur at a few places over the state during the next 24 hours.
Srinagar received 46.3 mm of rainfall since last evening, while Qazigund recorded 78.4 mm of rainfall, the officials said.
Pahalgam recorded 71.6 mm and Gulmarg 76.1 mm during this time period, they said.
The MeT department has predicted dry weather tomorrow onwards.