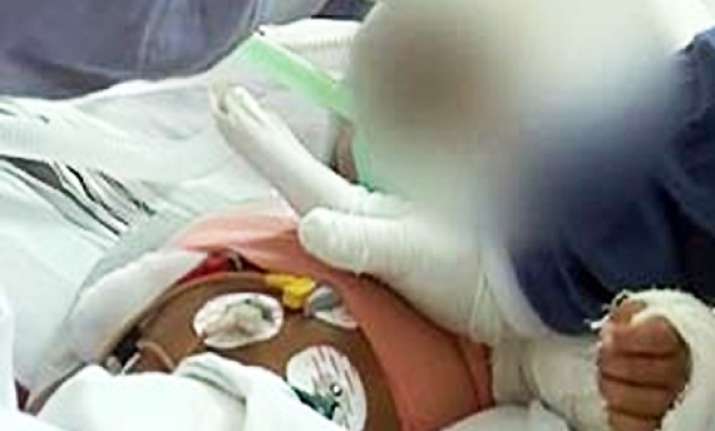 New Delhi, Jan 31: The two-year-old battered girl at AIIMS was battling for life today after contracting meningitis, a potentially life threatening infection, even as police failed to track her parents or the man who handed her over to his teenaged girlfriend.

Falak continues to be in a critical condition at the AIIMS Intensive Care Unit even today and has contracted meningitis, doctors said. Meningitis is a bacterial infection of the membranes covering the brain and spinal cord.

"Investigation reports of the fluid that had been taken out of her brain through a surgery yesterday has shown presence of infection in it. That is why her condition is still critical," Dr M C Misra, head of Jai Prakash Narayan Apex Trauma Centre where Falak is under observation, said.

"She has contracted meningitis. We are administering all antibiotic cover to fight the infection. If she responds well, we will immediately conduct another surgery of the brain tonight or tomorrow and extract the remaining infectious fluid," he said.

Delhi Police is yet to make any headway in the case as it has still not traced Rajkumar alias Dilshad who gave the baby to his teenaged girlfriend.

"We are working towards catching Rajkumar as soon as possible. We are trying to find the parents of the baby," Deputy Commissioner of Police (south) Chhaya Sharma said.

Falak remains unconscious and she opens her eyes and makes limb movement only when doctors give her painful stimulus.

"This is part of the treatment module to check her brain functioning time to time," Misra said.

She was admitted to AIIMS with severe injuries and is battling for life after a teenaged girl, who was looking after her after Rajkumar left the girl with her, got her admitted.

Dr Misra said, "Next three to five days are crucial for her. Her detoriation is happening in terms of infection in the brain. If she responds positively there is hope for her recovery."

Meanwhile, the Child Welfare Committee looking into the case of the teenaged girl, who got the baby admitted, said that a case should be registered against her father. Sources said the Committee was of the view that a case should be registered against the teenager's father for cruelty to the child and her abuse.

It also suggested that a separate case also should be registered against four persons who allegedly sexually abused the teenaged girl.

The committee said after talking to a counsellor, the teenager has told the panel that her father was in jail for 8 years for murdering her aunt and the father, who was present at the hearing, confirmed it.

Delhi Women and Child Welfare Minister Kiran Walia said the city government will surely take care of the child.

"The teenaged girl is also a victim of circumstances. She comes under juvenile system and she has to be treated accordingly. She also has gone through trauma...there is no need to recommend for shifting her," Walia said.