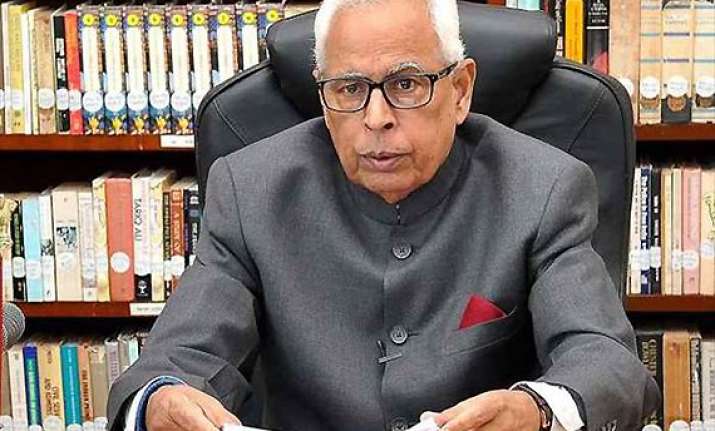 Jammu: Cryosphere depletion is a threat to the very existence of life on the earth, Jammu and Kashmir governor N N Vohra today warned.
"The Cryosphere is a vital part of the global climate system and its erosion and depletion can lead to a situation in which whole world will cry and very existence of all life on planet Earth shall be severely threatened", Vohra said.  
He said this while inaugurating a two day International Conference on "Change in Cryosphere and Impact on Ecosystem Services and Rural Livelihood: Understanding Local Adaptation in the Himalayan Region" at the Institute of Mountain Environment (IME) in Bhaderwah Campus of Jammu University.  Vohra stressed the need for generating awareness and evolving innovative approaches for the protection and conservation of the Cryosphere.
The Governor said that the process of urbanisation has led to unplanned growth and disruption of the natural contours and impeded the paths on which waters flow.  "Fracturing the geography of the earth has resulted in mega disasters, virtually on a recurring basis", he said.  
The Governor complimented the Jammu University for establishment of IME and hoped that this institution would develop as a pioneer in researches related to evolving sound principles and practical approaches for saving the fragile Himalayan Mountain system.
He suggested the linking of IME with various national and international institutions of excellence all over the world.  On the occasion, Vohra launched the Northwest Himalayan e-flora website and Ice Stupa Glacier Project.  
He also released Proceedings and Abstract Volume of the Conference and a book, titled,'Environment, Society, and Economy of Zanskar, Ladakh, J&K'- written by Chhering Tundup.  Professor Harjeet Singh from Jawahar Lal Nehru University, New Delhi, was given Life time achievement Award.  Prof G M Bhat gave a power point presentation on "Recent Floods in J&K and future Developmental Strategy'.