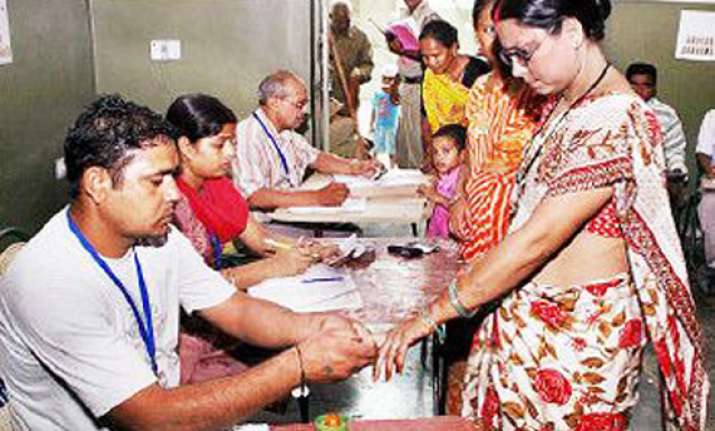 New Delhi, Mar 1: The first election to the trifurcated municipal corporation in the city will be held on April 15 while counting of votes will take place on April 17, Delhi's State Election Commission said today.  

The announcement for the polls came a day after Delhi High Court dismissed a batch of petitions seeking quashing of notification by the State Election Commission questioning the method adopted by it for reserving seats for Scheduled Caste candidates.

"The municipal polls for all the three corporations will take place on April 15 and votes polled will be taken up for counting on April 17," State Election Commissioner Rakesh Mehta said at a press conference.

He said the Model Code of Conduct will come into effect from March 5 while filing of nominations for all 272 wards will begin on March 19. The last date for filing of nominations will be March 26 and last date for withdrawal of nomination will be March 28.

The municipal polls are seen as precursor to the assembly polls slated for November 2013 with main political parties Congress and BJP already kick-starting their campaign to woo the voters.

Chief Minister Sheila Dikshit, who had strongly pushed for trifurcation of the MCD despite stiff opposition from a section of the Congress, has already instructed her Cabinet colleagues and close associates to ensure victory for the party in the newly created civic bodies. The BJP had won the civic polls in 2007.

The election is seen as important for Dikshit as a defeat for the Congress may result in criticism of the 73-year-old chief minister by those Congress leaders who had argued that any split in the MCD would erode party's chances to win the polls.

Elaborating on preparations for the polls, Mehta said a total of 12,000 polling stations would be set up in 2,700 buildings across the city for polling, which will take place from 8 AM to 5:30 PM on April 15 which is a Sunday.

A total of 70,000 employees would be put on election duty apart from thousands of security personnel.

"We may set up a maximum of 8 to 10 polling stations in one building," he said, adding a total of 7,500 booth level officers and 68 returning officers will be appointed across the city for smooth conduct of the election, besides deploying 34 expenditure monitoring observers and other staff.

Asked about limit for expenditure by candidates, he said Commission would finalise it in the next few days. In 2007 municipal polls, the cap was fixed at Rs 1.5 lakh. "Definitely we are going to increase it."

Appealing to all the political parties to obey the model code of conduct, he said the Commission would come down hard against the violators.

He specifically cautioned the parties against defacement saying violators will be punished as per Delhi Defacement of Property Act which has provisions for Rs 50,000 fine and upto six months' imprisonment.

Mehta said a total of 1.12 crore eligible voters will be able to exercise their franchise in the polls which include 42.95 lakh voters in North Delhi Municipal Corporation, 42.67 lakh voters in South Delhi corporation and 27.16 lakh voters in East Delhi corporation.

Following the election, the tree new municipalities will come into existence. The Delhi Municipal Corporation (Amendment) Bill was passed by Delhi Assembly on December 1 and it was given assent by President Pratibha Patil in December last year following which the city government notified it as an Act.