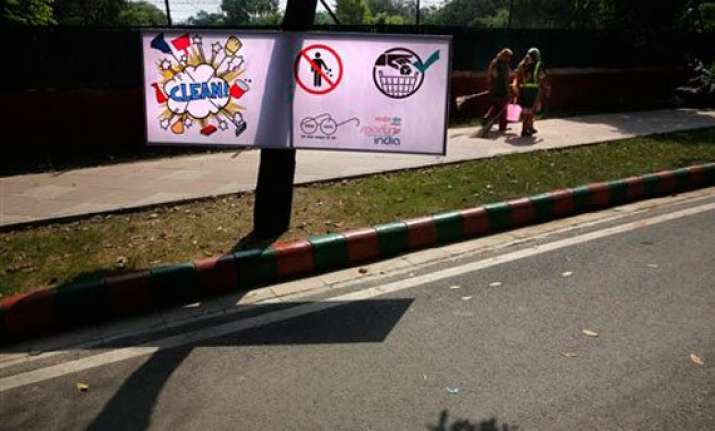 New Delhi: Various Delhi government departments, municipal corporations and scores of other agencies across the city today joined the 'Clean India' campaign with a pledge to implement the country's biggest ever cleanliness drive envisaged by Prime Minister Narendra Modi.  
Delhi Chief Secretary D M Spolia led the campaign by administering oath to officers of various department to make Delhi 'clean' while the civic bodies launched a massive cleanliness drive across the city to remove debris, construction wastes and garbage to give a better look to the city.
Modi, earlier, launched the five-year-long nationwide drive that will cover 4,041 statutory towns which is expected to cost nearly Rs 2 lakh crore.
"A clean India was the vision of Mahatma Gandhi and government has done a symbolic gesture by starting the drive today to make it come true.
The cleanliness drive in Delhi is a five-year mission and will go on till 2019," Lt Governor Najeeb Jung said after performing 'Kar Seva' at Bangla Sahib Gurudwara here.
Around 2700 students from 44 Delhi government schools participated in the event at Rajpath where Modi launched the drive.
Almost all Delhi government departments, Delhi Police, Delhi Development Authority, New Delhi Municipal Corporation, Delhi Jal Board, Delhi Commission for Women and East, West and South Delhi municipal corporations kickstarted the campaign besides numerous other agencies.
The Chief Secretary told all the Principal Secretaries, Secretaries and head of the departments to seriously continue the cleanliness drive.
He said periodic inspections will be carried out to check compliance of cleanliness.  Employees of various departments as well as at district and sub-division levels were administered oath to continue the cleanliness campaign according to the Prime Minister's direction.