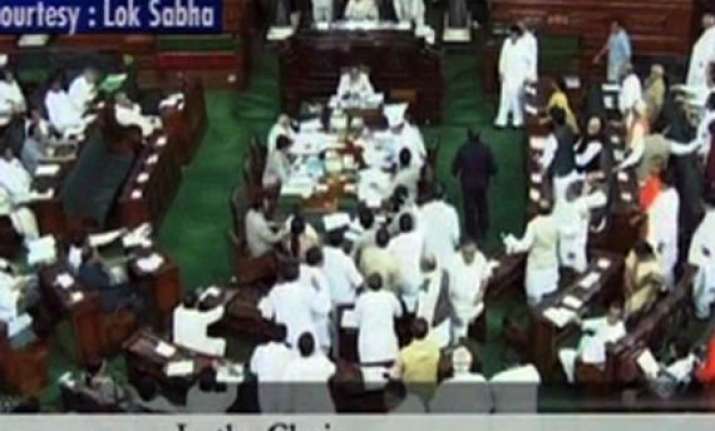 New Delhi, Aug 2 : A torrent of issues ranging from price rise to demand for dismissal of Mayawati government and immediate execution of Ajmal Kasab and Afzal Guru today drowned the second day of the Monsoon session of Parliament.
The Lok Sabha and the Rajya Sabha were adjourned for the day at 1400 hrs after two earlier adjournments with BJP, BSP, SP and Shiv Sena members storming the Well on diverse issues. 

The Left and the Right raised the issue of price rise with the BJP led by M Venkaiah Naidu making a strong pitch in the Rajya Sabha for suspension of Question Hour to discuss the matter. Inflation in June stood at 9.44 per cent.
Left parties in the Lok Sabha had given a notice for an adjournment motion on the issue of price rise.  In the melee, Sports Minister Ajay Maken made a statement on the irregularities in the hosting of Commonwealth Games last year in which he sought to drag in the erstwhile NDA regime.

Maken said the then NDA government had bypassed the Delhi Government and made the Centre responsible for all financial and infrastructural obligations which was against established norms.

It was trouble from the beginning in both Lok Sabha and Rajya Sabha as BJP members in the Upper House and those from the BSP, SP and Shiv Sena in the Lower House raised several issues simultaneously by storming the well.
Both the Houses were first adjourned for nearly an hour till noon and then till 2 PM because of the ruckus. With Assembly elections in Uttar Pradesh not far away, SP members in the Lok Sabha utilised the opportunity to train their guns on Mayawati-led government in the state for allegedly committing atrocities against farmers.  They wanted dismissal of the UP government.
Members of BSP, whose government in UP is in the dock over the issue of land acquisition, followed suit by carrying placards, blaming Congress-led government for the poor conditions of the peasantry. They demanded immediate passage of the Land Acquisition Bill.

Shiv Sena MPs stormed the well raising slogans and waving placards demanding immediate hanging of Mumbai terror attack culprit Ajmal Kasab and Parliament attack convict Afzal Guru.  With the session being the first after the July 13 bomb blasts in Mumbai, Sena members raised the issue of security in the financial capital of the country.

Similar scenes were witnessed when both the Houses re-convened at 2 PM and the presiding officers adjourned the proceedings till tomorrow.The first working day of the Lok Sabha was adjourned yesterday after paying homage to sitting member and former Haryana Chief Minister Bhajan Lal. The Rajya Sabha was rocked yesterday over the 2G issue. PTI