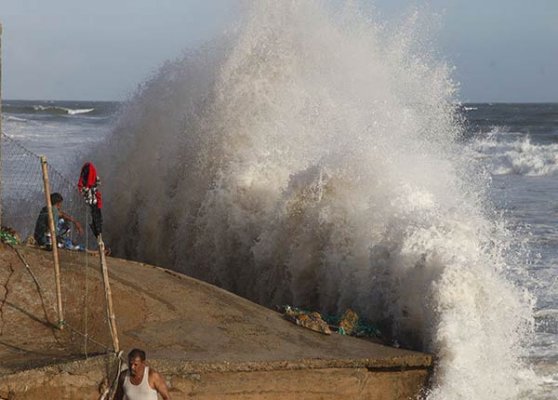 New Delhi: The coastal districts of Gujarat will receive isolated heavy to very heavy rainfall as cyclonic Nilofar over west central and adjoining south west Arabian Sea has intensified into a severe cyclonic storm, the Met department said today.
The Met department further said the cyclonic storm Nilofar lay centered about 1,180 kilometers south west of Naliya-Gujarat this morning.
Initially, according the Met officials, 'Nilofar' will move northwards during next 24 hours and then re-curve to northeast direction to cross north Gujarat and adjoining Pakistan coast around Naliya by Thursday.
Meanwhile, as a precautionary measure, the Gujarat government has made elaborate arrangements in view of cyclonic storm 'Nilofar'.
"Next 48 hours are going to be very crucial. As of now, there is nothing to worry about but we are taking all precautionary measures. Fishermen have been asked to return from the sea," a Met official said.
The coastal districts of Saurashtra and Kutch will experience very heavy rain fall.
Squally winds speed reaching 45 to 55 kilometers per hour along and off Gujarat coast would became 100 to 110 kilometer per hour at the time of its landfall. Fishermen out in sea along and off Gujarat coast have been warned to return to the coast.
All fishermen have been advised to return from the sea. People living in the coastal areas have been warned to remain alert.