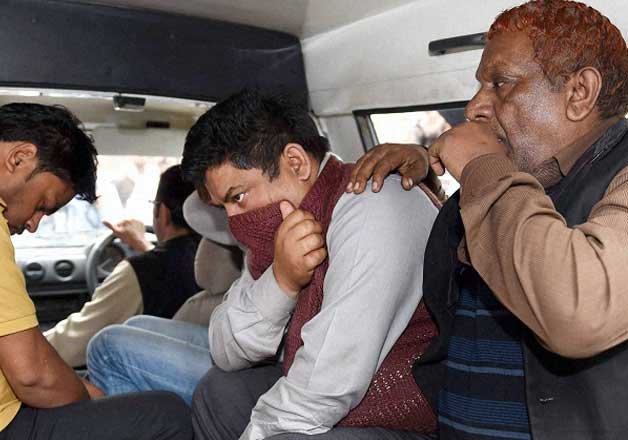 New Delhi: According to police, these five company executives were receivers of stolen documents which have been recovered by police teams during raids from their establishments.
Saxena is Manager, corporate affairs, Reliance Industries Limited(RIL); Chandra is senior executive, Jubilant Energy; Anand is DGM, Reliance ADAG; Vinay is DGM, Essar and Naik is GM, Cairns India.
They have been booked under IPC sections 120 B (criminal conspiracy) and 411 (dishonestly receiving stolen property).
The alleged pilfering of 'secret' documents, which was thought to have been a racket confined to the Petroleum ministry, actually covered matters in finance, coal and power ministries, police has said.
Apart from these five corporate executives, the police had arrested seven persons-- two Oil Ministry staffers, three middlemen and two energy consultants--Santanu Saikia and Prayas Jain.
Former journalist Saikia, now running a petro web portal, and Jain, who runs his consultancy firm in Patel Nagar in Central Delhi, were arrested as they were suspected to be receivers of the stolen documents.
As per the FIR, produced in the court, an input on the National Gas Grid for the Finance Minister's budget speech of 2015-16 is among the various "secret" documents recovered from the accused.
Besides this, police has also recovered a letter of Prime Minister Narendra Modi's Principal Secretary Nripendra Misra, according to the FIR in the case.
"Photocopy of documents with heading input material on National Gas Grid for inclusion in Finance Minister's budget speech 2015-16," the crime branch has said in its FIR filed in the case.
The court had yesterday remanded Lalta Prasad and Rajesh Kumar (Oil Ministry staffers), Jain and Saikia to police custody till February 23 after police had said "sensitive" documents have been recovered.
Regarding the other three accused--Ishwar Singh, Asharam and Rajkumar Chaubey, the police had said they were not required for custodial interrogation and they were remanded in judicial custody for two weeks.
Police alleged that "incriminating" documents of Coal, Power and other ministries were recovered from the possession of the accused who were supplying these to certain corporate houses for benefit.